As Hong Kong Chief Executive Carrie Lam nears the end of her first month in office, her hoped-for lovey-dovey unity and harmony with everyone isn't turning out too well.
Carrie's hands are largely tied on the Oath-Gate purge-in-progress of opposition lawmakers. This could go all sorts of ways in the long run, with legal appeals, bankruptcies and by-elections, not to mention possible moves to disqualify more representatives.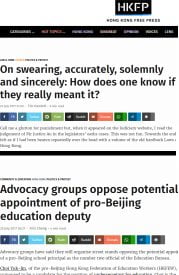 Nearer-term, the culling of pan-dems looks likely to hinder as much as help the government in LegCo. Surviving pan-dems will hardly be receptive to her attempts to 'reach out' and build consensus. The legitimacy of the legislature and its elections (and related laws) in the eyes of many voters is weaker than ever. With fewer members present, there could also be more legislative procedural problems to do with quorums and so on.
Meanwhile, the new administration can't help but rush to make itself unpopular among the rest of the citizenry.
They might appoint overtly pro-Communist ideologue Choi Yuk-lin as Assistant Deputy Sub-Flunky for Education. This is like setting off a very loud citywide alarm screeching 'Brainwashing Your Kids Alert!!!' Common sense says it won't happen. Can Carrie really be so stupid or subservient to the Liaison Office to provoke and alienate every mild and decent parent in town? OK – so maybe it will happen. Pro-dems will rub their hands with glee.
Then there's the co-location of Mainland border-control officials inside Hong Kong at the terminus of the high-speed train line to Shenzhen. (Should be a joke here: what happens when you cross a white elephant with a hot potato?)
In a normal situation, with halfway trustworthy and accountable government, this would be no big deal. If the rail link is to work as advertised and zip you seamlessly to Shenzhen and Guangzhou and up to Beijing overnight blah blah, it makes sense to do the immigration and customs stuff right at the start. Hence French cops at the London rail station, US officials at Canadian airports, etc.
But of course, this is not a normal situation. In addition to trying to brainwash your kids and overturn elections, the Chinese authorities have abducted people from within Hong Kong, not to mention snuffing out Liu Xiaobo and so much else. It is not a 'lack of trust', as officials awkwardly admit – it is a not-unreasonable vision of CCP thugs dragging innocents off to torture chambers and televised confessions. On top of that, Beijing presumably sees this as a partly symbolic thing (a more PR-minded regime would delegate the ID checks to Hong Kong Immigration).
So, near the top of Carrie's to-do list: ask pro-dems ever so nicely to forget being kicked in the teeth for a minute and support 'co-location' when the necessary legislation comes along, and not freak out and spread panic everywhere, pretty-please. Just another 59 months of this 'warm-and-fuzzy' to go.