Before the handover: government officials appeared live on stage with rock bands…
…and almost looked born to it.
Today: government officials cover up statues of Queen Victoria with tacky banners…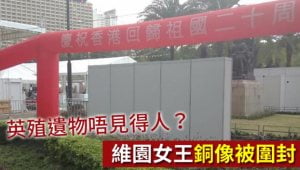 …and then wet themselves like panic-stricken weasels and change their minds when people complain.
Is it any wonder that Hong Kong has fallen so significantly down the World Cool Index in the last 20 years?
On a brighter note, thanks to huge gains in technology and increased output of source material, satirical videos have hugely improved…