Flicking through my bedside copy of Aliway – Alibaba's glossy manual of corporate culture – I find inspiring tales of employees' heroic achievements. The cloud services personnel who protected international leaders from cyberattacks, boss Jack Ma's globe-trotting and advice for the young, Alipay staff volunteers caring for homeless bunny rabbits, etc.
The empire's new Hong Kong outpost, the South China Morning Post, doesn't appear (no doubt it will be in the next edition). But Chairman Ma's Little White Book does pay lengthy tribute to the Alibaba conglomerate's secretaries. They are 'invisible like air', 'working behind the scenes' and 'not hired to be a pretty face, and not a nanny either'…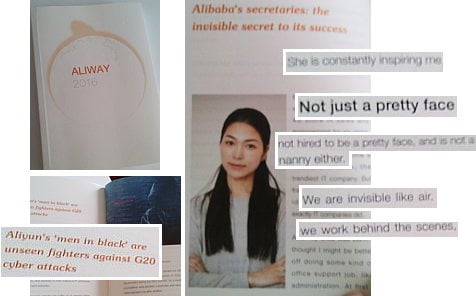 One of those little examples of China wanting to be inclusive, committed to equality and respect and all the right modern hip and trendy things, but not quite Getting It, and sadly being cringe-making instead. (See also state media's embarrassingly condescending features on foreigners' amazing chopstick skills, Mainland airlines' sexist PR fluff on cabin-crew recruitment, etc.)
Which leads us to the latest from Deep Throat, who has trawled through Alibaba's latest 20-F statutory financial report filed with the US Securities and Exchange Commission. He helpfully translates the accountant-jargon into plain English and adds enlightening comment, such as:
"Even if each of the 300 newly created businesses had only 50 employees each, that would increase head count by 15,000.  So apparently, these 300 new businesses had relatively few employees (if any).  My guess would be that these "fly-under-the-radar" businesses were created solely to transfer cash (shareholder equity) to insiders, launder money and/or get cash out of the PRC.  Of course, this is only a theory, I'm not directly accusing anyone of any wrongdoing here."
There's a vast amount here (maybe scroll past the author's vacation pix from India).
Many points to ponder. Little stuff like the SEC's ongoing investigation into Alibaba and how Hong Kong tried desperately to get the company to list here. To the big picture, like how much extra, magnified asset-price bubble is all around us in Hong Kong when we compound the Fed's low interest rates with state-linked/crony Mainland giants' financial sleights-of-hand, leveraged by domestic pyramid savings schemes, spurred by panic to relocate capital, with added messianic self-delusion and vanity (and gullible regulators and investors) for good measure. Or… maybe Big Throat is wildly exaggerating and all is OK.