…with things to do as the days tick away until the Grand 2017 Filial Piety Tour of Appalachia and the West of England begins. It will include a once/twice-a-decade gathering of clan members from exceptionally far-flung parts of the English-speaking world like Melbourne and Maine.
Aside from family ties and linguistic heritage, it appears that we will all be able to rejoice in our shared access to cheap Starbucks. According to a big chart here, the world's six main native-Anglophone countries happen to occupy the bottom six places in the list of Starbucks markets ranked by cost of the product…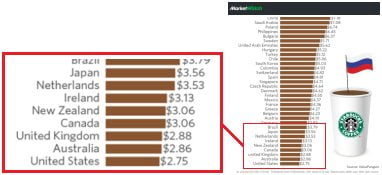 The Netherlands – Europe's honorary quasi-Anglo country – comes seventh from last, preceded by Japan (supposedly hyper-expensive, but also always weird) and Brazil (the place there's an awful lot of coffee in).
Why do English-speaking countries have the cheapest Starbucks? Is this liberty-loving Anglo-Saxon free-market, low-tax philosophy in action? Or economies of scale owing to poor-taste, junk-food-addicted Anglos' willingness to drink dregs, while civilized and sophisticated French, Austrians, Italians consume the decent pricey stuff?
In (unmentioned) Hong Kong, meanwhile…
Well wouldn't you?