In the foothills of northern Hong Kong Island, herds of Korean tourists are making their seasonal migration. The older ones move in large mixed packs, closely tailing their leaders; the younger ones, mostly female, sport bright lipstick and selfie-sticks, and travel in pairs.
If their numbers seem massive, it is partly because they are. But it is also because these visitors concentrate themselves into specific spots along specific routes. Only a few ever stray more than a street away from the designated track, and those who do look clueless and vulnerable, maybe even fearful, as they consult their guidebooks.
More than most incurious, unadventurous, non-exploring modern tourists, the Koreans seem to follow exact compulsory instructions on where to go, down the exact square foot of sidewalk. The classic example is the Tai Cheong Bakery, venerable purveyor of authentic ancient traditional hand-crafted secret-recipe custard tarts (stock code 573). The Koreans do not seem to mind (or notice?) that all the other customers dutifully standing in line outside are their fellow-countrymen…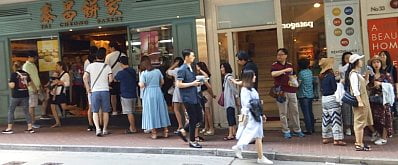 The next item on the list: Place You Must Have Your Photograph Taken, Number 7 – a nondescript mural on a narrow street rising from Hollywood Road. Because every Korean must come here, it gets crowded…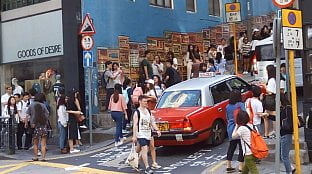 While waiting for a space in this required selfie-taking location, a few Koreans are squeezed out into nearby lanes…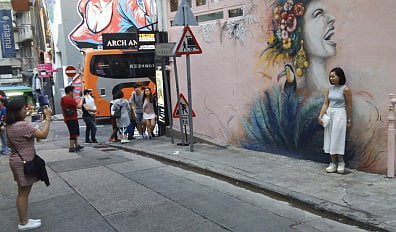 Nothing against the Land of Morning Calm, whose people also suffer (usually) from over-tourism. But two things are apparent. First, obviously they don't have murals in Seoul, so even the rather feeble ones in Hong Kong are a magnet. Second, the imitation-trendy-hipsters who paint pseudy pictures on Soho's walls don't realize that they have found a way to entice Koreans, in the way (say) pots of honey would attract bears.
Business opportunity: Tai Cheong Bakery and local quasi-hipster muralists launch a joint venture, relocate to Korea, make millions, and provide widespread relief to the rest of us.