Hong Kong is filled with joy today as the city learns that veteran bureaucrat-turned-politician Regina Ip has decided to change her mind, and get in all our faces yet again. For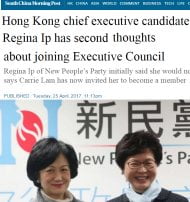 a while last month, after her hopes of becoming next Chief Executive were so cruelly dashed, she was in a huff, swearing never to set foot in winner Carrie Lam's Executive Council. We feared that she might step down from public life and gradually disappear from our lives.
Now the foot-stomping tantrum is over, and Regina is jumping up and down like an excited schoolgirl insisting that she might indeed accept an invitation from Carrie to join the ever-so important body.
This isn't the first time she has taunted us this way. In mid-2003, after her tragic failure to introduce 'Article 23' national security legislation, she departed for the United States – leaving a broomhead-size void in our hearts. And then a few years later she returned, founding a political party, getting elected as a lawmaker, taking a seat in the aforementioned highly prestigious Council, writing English-language booklets for kids, going on TV cookery shows, and even starting up an Institute to promote China's visionary 'Belt and Road' hub-zone initiative-concept.
Looking (hopefully many) decades into the future, I can envisage a sad day when Hong Kong is mourning her final departure, and she is laid to rest in the Giants of Public Service Memorial Garden – and hours later, a pair of immaculately manicured and fragrant hands reach out of the soil, and a muffled voice beneath expresses a decision to reconsider and continue to serve the community. We can only hope.
Meanwhile, we rejoice that Regina will be part of Carrie's young, fresh, new-look line-up.
A letter in the South China Morning Post makes me wonder: is there a word for a statement whose own illogicality proves its point?