Eater examines US President Donald Trump's preference for steak that is well-done and accompanied by ketchup – in particular what this says about his personality.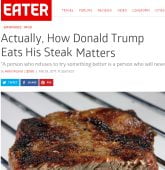 People of any breeding or refinement refuse to have ketchup in the house, and know instinctively that well-done steak is a mark of a (Anglophone) peasant – many professional chefs will refuse to prepare it. However, this writer goes to great lengths to avoid being judgmental, even allowing that some individuals' sense of taste might be so abnormal that dry and overcooked meat genuinely seems better.
Her conclusion is that Trump's gauche dining habits reveal deep-rooted distrust, fear and all-round benightedness. The ketchup indicates a person 'who is always going to fix his problems by making them worse'. This is echoed over at Esquire, which investigates Trump's use of scotch tape to hold his neckties together and finds that he 'elects to correct one sin by performing another'.
There is an argument that, to Trump's fans, the tastelessness (like his Louis XIV boudoir and bim-femmes) is the point – an insult to the class identities and social markers they resent and despise.
This is an English-speaking thing. In France, every leftist and aristocrat and Marine Le Pen voter eats their viande de cheval rare, and dresses with the same effortless elegance. In Hong Kong, cutting-edge gastronomes use Coca-Cola as a marinade for chicken and it is acceptable to clip your fingernails whether on a bus or in the back of a chauffeur-driven Mercedes.
On weightier matters, the Plus ca Change Award of the Week goes to Formosa Calling: An Eyewitness Account of the February 28th, 1947 Incident by Allan Shackleton….