While the rest of Hong Kong dozes through a humdrum week, soon-to-be-ex-Chief Executive CY Leung is still traipsing around the Pearl River Delta to hype up the 'Greater Bay Area' project, senior officials dutifully in tow.
It's as if he wants to punish his transport, Mainland and other ministers for not sharing his infatuation with the Chinese Communist Party, and for stubbornly insisting on being Hongkongers all the time. Or maybe he feels every study trip and briefing and inspection tour genuinely helps to subsume and dissolve Hong Kong into the Mainland, and he must make the most of this last couple of months in office.
Another explanation is that Beijing is actually serious with this latest in a long line of visionary concepts. National economic planners are indeed going to assign the various cities in the region specific roles, with Hong Kong moving its port out and focusing more on high-end financial and other activities, to 'avoid destructive competition'. We yawned at the announcement of yet another zone-hub, and when we woke up we found we were part of the latest Five-Year Plan.
CY's parade through the 'Greater Bay' includes dropping in – and feeling right at home – at a factory making robots. Also a visit to a hitherto unheard-of city that is now officially the zone-hub's Gateway to the Southwest, where they are putting 600,000 people into 115,000 square metres. (In plain English, that's two square feet for every human, according to my approximate and possibly faulty mental calculation. Maybe it's a typo and they mean cubic metres.)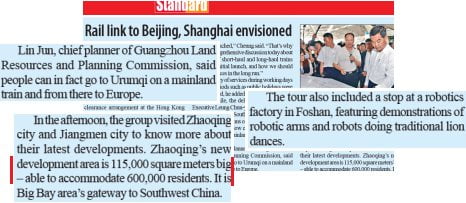 Inevitably, he and his Mainland buddies find a way to drag the HK$80 zillion Express High-Speed Rail White-Elephant into the Greater Big Bay Zone extravaganza. After the thing is built, we will be able to take a train to Urumqi, and thence to Europe – no more fiddling around with airports and flying.
I declare the weekend open with a theory: maybe it's the other way round – maybe it's the Big Greater Bay Concept Theme Hub that's being dragged into the High-Speed Express Rail to Shenzhen Vision Project?