…owing to extreme shock. Someone has openly acknowledged that golf is boring…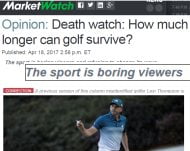 The great awakening begins. The truth about the world's most mind-numbing pastime is at last dawning.
The number of self-consciously upwardly mobile pre-middle-aged corporate females plodding around Central with a club slung over their shoulder has been visibly declining over the last few years. One such couple I know, for whom golf was up there with having an Alphard and getting their little princess into the right kindergarten, have given up the tedious procession around holes and bunkers in favour of – boxing!
It's better exercise, they report. And, when they discuss the hobby in company, the people listening don't doze off like they used to.
The MarketWatch article lists various challenges facing the walking-while-hitting-ball concept. Among them is the amazing discovery that the courses take up large amounts of space, which could be used as parkland, or to grow food or provide housing. The late great George Carlin is vindicated.