The Hong Kong government announces that it will spend HK$640 million on celebrating the 20th anniversary of the handover of the city from the UK to China. Some opportunistic griping ensues, and largely misses its mark…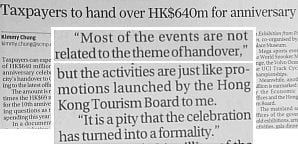 The budget is far larger than that for the 10th anniversary. This makes sense: the less there is to celebrate, the more you need to spend on festivities – economists would call it counter-cyclical demand stimulus.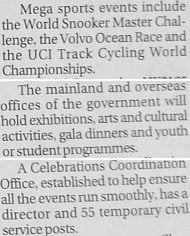 The South China Morning Post quotes detractor Kwok Ka-ki as complaining that the events are not really related to the handover. Indeed, many of them don't even seem to be about Hong Kong – like an exhibition on ancient Egypt co-organized by the Louvre.
Seasoned observers of the city's bureaucracy will immediately spot what is happening. The word has come down from the manically pro-Communist Chief Executive CY Leung that we must make a Huge Patriotic Deal of the anniversary. Civil servants, not only indolent but aware that CY is leaving office on the date in question and is widely detested, have responded with a box-ticking and label-sticking exercise.
Thus the (no doubt already-arranged) display of some pharaoh's artefacts becomes an Exciting French-linked Cultural Contribution to the Great 1997-2017 Patriotic We-Love-the-Motherland Hoo-hah. 'Mega' sports events include such mind-numbing pastimes as snooker and cycling (though the Swedish cars-driving-over-the-sea thing sounds vaguely interesting). There will be the inevitable, dreaded 'youth activities', guaranteed to be embarrassingly tedious and uncool. To cap it all, we must have a slogan-theme-concept that is a sick joke – cue 'Together, Progress, Opportunity'.
With 55 temporary civil servants working overtime on them, how can the celebration activities fail to be cringe-making and blatantly idiotic?  Chinese national pride demands events that are stirring, joyous, dignified and full of patriotic passion. Instead, guerrilla-saboteur-officials are planning (to quote Kwok Ka-ki) 'Hong Kong Tourism Board-style promotions' – and it doesn't get any more insulting than that. Let the rest of the community be similarly inspired in preparing to mark the occasion.