And so a busy couple of weeks come dribbling to an end. The next week or two will probably, by contrast, be relatively quiet, as Hong Kong's political 'heavyweights', co-opted tycoons, pro-Beijing shoe-shiners, Communist-worshipping zombies and all-purpose human annoyances go on their annual pilgrimage to the nation's capital for the 'two meetings' of China's rubber-stamp legislative and consultative bodies.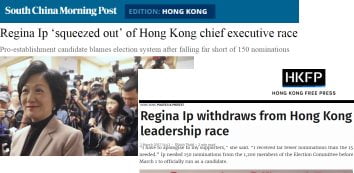 The soap-opera known as the Hong Kong Chief Executive election will continue. For those who missed the last few episodes: supporting actress Regina Ip has – as widely expected – finally been written out of the script. She is not happy, whining about her loyalty to the sponsors and no doubt bitter about how hard it is for women her age to land a decent role. But the truth is the producers never intended her rebellious character to remain in the show this long, overshadowing the duller leading members of the cast, notably star Carrie Lam, the wholesome girl-next-door, who is the focus of the fading and absurd drama.
How can you answer this question in just 600 words?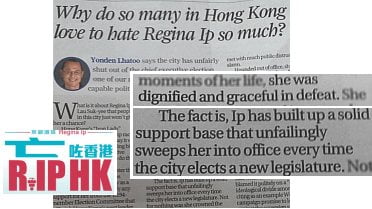 The article is fawning towards the unlikeable lawmaker – but in these strange times that is actually a somewhat seditious position to take. The ironies! Regina wins votes in the real, free democratic elections we have for the Legislative Council. She gambled, through energetic obsequiousness, on her no-nonsense style being acceptable to the Communist Party. Now she has 'lost' in a quasi-poll deliberately rigged to appoint someone safe and spineless. She would have been better off being a feisty and serious pro-democrat all along. So hard to sort out the injustice from the justice here.
Maybe there is hope for her yet. I declare the weekend open with a job-opportunity brainwave…