Contenders in Hong Kong's phony but nonetheless quirky and entertaining Chief Executive 'election' grant exclusive interviews to lucky media outlets.
Beijing's pre-determined winner Carrie Lam does an interview with Bloomberg – an ideal way to reach the more economically literate end of the audience-spectrum. But she is devoid of ideas except for a charming hope that by spending more of the government's budget surplus she can 'make everyone happier'. She also says she is puzzled as to why she is coming second in public opinion polls, which are of at least symbolic importance in the appointment process.
For an answer, she could check the South China Morning Post's big coverage of John Tsang, who gave his interview in the form of a trendy Facebook Live online-streaming thing (Facebook being one of the many things in life, such as toilet paper-procurement, MTR travel and Mainland beggars, of which Carrie is blissfully ignorant).
John gets into the major issues. He insists his hand-shake with Chinese leader Xi Jinping was 'a big deal'. His position on Silver Surfer is that the alien humanoid is a 'contradictory type of character'. If he becomes Chief Executive, he would consider naming a street after Bruce Lee, who 'gave Asians manhood'. How can the guy not wipe the floor with Carrie?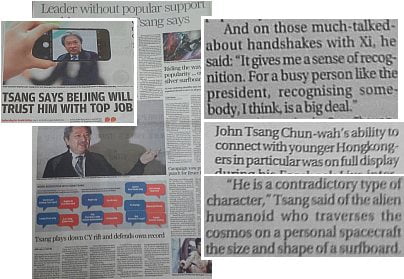 Meanwhile, the media – in common with former friends, Chinese government officials and the public as a whole – are paying no attention to third candidate Regina Ip. After years of being obnoxious to pro-democrats to show her worth to Beijing, she is now desperately groveling for nominations from the very same opposition. Hilariously funny or what?
The unseemly groveling continues with a visit to the Taoist Association, which she attempts to win over with the deplorable idea of public resources for religious bodies 'to promote their faiths and contribute to community services'. She claims that some of the Taoists will support her, but their boss says they haven't yet decided. Thus Regina is learning the answer to the ancient question: What is the sound of one hand clapping?
On the subject of religion, I declare the weekend open with Funniest Jewish Joke of the Week here (should start at 4m02s to 4m52s, but the whole 15-minute epic movie is quite amusing).