The next few days – weeks, indeed – are a rush, so this CIA-funded painfully unconvincing 'rich expat banker' act will be even more erratic than usual for a while.
Just time to note a couple of things.
First, all right-thinking people will be heartened to see yet another reluctant, hand-wringing half-admission in the press that the forthcoming Hong Kong Chief Executive 'election' is a rigged, fraudulent, ritualized joke-charade…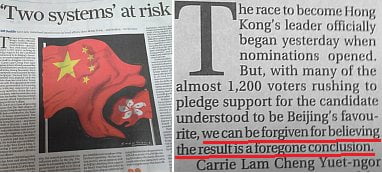 As substance-abuse counsellors say, abandoning the pretense and admitting the reality is the first step to facing and overcoming your problem.
Second, it's only mid-February, and we are already making plans for the July 1 20th anniversary of Hong Kong's handover from the UK to China. The celebrations of the reunion with the motherland promise to be suitably rousing, joyous and merry…