Hong Kong is in shock after a self-immolation/arson attack on a crowded MTR train put a dozen people in hospital on Friday. (Chief Executive candidate Carrie Lam's response to the news: "What's an MTR train?") Authorities assure the public that the incident was not terrorism; the signs are that it is another case of a mentally ill person going over the edge.
Genius press-relations officials swiftly put out a whiny defensive statement insisting that the government takes mental health really, really seriously. In other words, of course, it does not – it has under-funded such services for years, despite widespread criticism.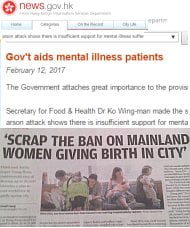 No prizes for guessing why. Such expenditure would not benefit the construction industry, the 'tourism' sector, or the property cartel – so it doesn't happen. Why waste money on reducing waiting lists for people suffering depression, when for 100 times that much you can build a cruise terminal no-one will use?
On other matters, the South China Morning Post provides an interesting juxtaposition on the subject of think-tanks. One article says the China's think-tanks are (in essence) garbage because the institutions are told what to think by the Communist one-party system. Another reports that a Hong Kong think-tank with strong Communist Party ties proposes allowing Mainland women to give birth again in local hospitals, supposedly to guarantee the city a vital stream of future workers – presumably with ideologically pure DNA.
Another juxtaposition from media-land jumps out at me today: the SCMP has a front-page ad for a Lalique glass sculpture by architect Zaha Hadid, while Marketwatch reports that pop singer Prince's works will be available on online streaming services…
What do these items have in common (aside from 'purple')? First, in both cases, highly respected creative individuals' works are being debauched by tacky commercialized outlets. Second, both individuals died around 10-11 months ago.
Lastly, a peculiar YouTube channel that could use a bit more traffic. Not sure who Boiling Point are, but at around 9m30s, they engage in an earnest discussion about this very website, believing it to be clumsily pretending to be by a rich expat banker and concluding that it is probably CIA-backed. Of course, that's what Chief Executive CY Leung pretty much said about the Occupy/Umbrella movement. These guys don't look like United Front operatives, but maybe that's what we're supposed to think…