You will notice that, thanks to microscopic rounding-down of figures in this table, the HK$17 million office-decoration and HK$13 million rental costs don't quite total (with sundries) HK$40 million…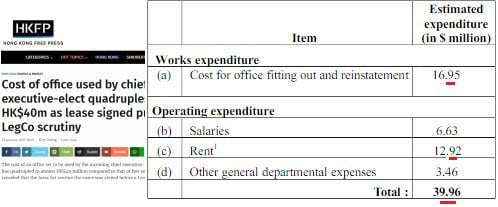 This is what the government will spend on transition arrangements for Carrie Lam (or whoever Beijing chooses to 'win' Hong Kong's Chief Executive phony election in March). Full story, complete with the official take-it-or-leave-it briefing for legislators, here.
The Chief Executive-elect's 28-strong transition team will include no fewer than four chauffeurs/drivers, presumably to fetch toilet paper. But the real costs are due to office accommodation. This is partly because, as HKFP notes…
The office would only be used between March 26 and June 30 this year, but the rental period would be between late January and mid-August as office fittings will need to be installed and removed.
So the HK$13 million goes on renting the most-expensive-we-could-find office space for six-and-a-half months, while the government-in-waiting occupies it for just three.
And, as you would expect given the time it takes to install and remove them, the fittings must be of palatial extravagance, coming in at HK$17 million. Something tells me that, unlike a lot of public-sector furniture, this stuff will not be produced at Stanley Prison. (If I were the government spin-doctor here I would find a way to subtract the resale or re-use value from these figures. Surely the gold washbasins, 'barely used', can later be sold off on eBay or donated to an old people's home?)
This story does not exactly lend credence to the pretense that a real election with an unpredictable result is about to take place – it has Lush Lavish Luxury of Louis XIV Lam written all over it.
I declare the four-day Rooster-Year weekend open with a slightly more down-to-earth public-works horror. This (from Google Street View) is the junction of Lyndhurst Terrace and Cochrane Street as it was up to a year ago…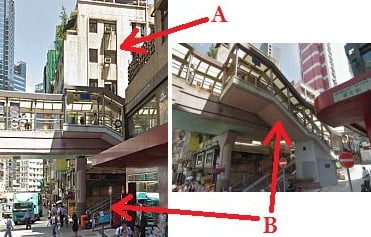 Note a building (A) and a stairway to the footbridge (B).
The building (possibly the original HQ of Blacksmith Books, or at least next door) existed up until around a month ago. Then, within a couple of raucous and dusty weeks, it had vanished and turned into this pile of rubble (as seen from the Mid-Levels Escalator/footbridge)…
A classic example of private-sector efficiency, on gentrification steroids.
Just a few feet away, the stairway was sealed off roughly a year ago (minimum 8-10 months) and at some point demolished.
This was a major inconvenience to pedestrians, as it is the only access/exit point between the walkway system and this block between two busy roads (Lyndhurst and Hollywood).
The idea is to add an elevator – one of 230 promised by Chief Executive CY Leung years ago to make life easier for the old folks. Mankind could put a man on the moon in 1969, yet now in the 2010s we cannot build a lift without removing a stairway. And (needless to say) here we are, the best part of a year later, and nothing has happened. You still cannot get on and off the walkway system at Cochrane/Lyndhurst, and there is still no sign of anyone coming to construct the elevator.
Wading through the Civil Engineering and District Council online swamps, I find a take-it-or-leave-it briefing for our elected representatives about this idiocy, known as HF135. The bureaucrats describe a 'public consultation' process, which yielded comments from residents including elderly and disabled groups saying they would rather the stairway stayed open…

Wrong answer, obviously.