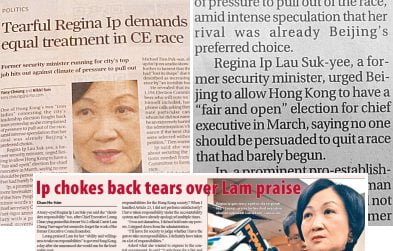 Just before I left on my inspection tour of Zhongshan, Hong Kong Chief Secretary Carrie Lam said that God had told her to 'run' in the quasi-election for Chief Executive. Skeptics chortled as they pictured the elderly, bearded Creator of the universe inducing the no-nonsense bureaucrat to bow to His will. A few days later, it is clear that she was referring to a different and more fearsome divine and omnipotent power – Beijing.
The Bible tells us that 'the Lord gave and the Lord hath taken away'. It is the same with the Chinese Communist Party, as Carrie's overly determined rival Regina Ip finds out the hard way. After her pal Michael Tien gets mysterious phone calls, it finally dawns on her that the Chief Executive 'election' that is rigged against all except Beijing's chosen one is rigged against her as well. After years of obediently bowing and scraping, she sees supposed friends deserting her for fear of backing the wrong 'candidate'. It all becomes too much when outgoing Chief Executive CY Leung heaps scripted praise upon his anointed successor but not her, and Regina lapses into teary, 'chokes back tears', 'fought back tears' mode, with a generous bit of foot-stamping thwarted-schoolgirl thrown in.
He (or she) who lives by the shoe-shine, dies by the shoe-shine. And they never learn.
The interesting thing about this is that even some pro-Beijing figures are shocked at the obviousness of the Communist party's stage-management of this 2017 joke-election. Michael Tien whines about a 'visible hand' interfering where in the past an (apparently acceptable) invisible one did the job. It makes many other establishment loyalists look and feel like foolish tools, even if the ones quick enough to leap onto the Carrie bandwagon escape the humiliating kick in the teeth.
Assuming, of course, that Carrie herself survives any remaining brutality the Leninist system has yet to deliver. A conspiracy theory fantasizes that Beijing will ultimately choose Financial Secretary John Tsang (currently being hung out to dry) to make Hongkongers think how nice the Communists really are. Slightly more realistically, paranoia and power struggles among the black hair-dye brigade in Zhongnanhai could produce an upset and a different last-minute 'winner'. But as of now, the script clearly says 'Carrie'.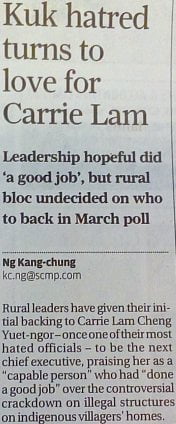 One sign: as well as pro-establishment stalwarts bending with the wind, the Heung Yee Kuk rural mafia is showing signs of backing her. These are opportunistic scumbags who will back anything if they think it will help them line their pockets.
The callous casting-aside of Regina Ip not only offends or discomforts her fleeing or faithful establishment supporters, and shatters the wider pro-Beijing camp's delusions that they are privileged participants in a selection process. It is a slap in the face for Hong Kong Island's middle-class conservative retiree schmucks who for some reason vote in numbers for the harridan in Legislative Council elections.
The Communist Party doesn't care. It is abandoning much of the (always superficial) pretense that the Chief Executive 'election' is a poll in any serious sense of the word, or an autonomous affair of Hong Kong. This is presumably Xi Jinping paranoia meeting an increasingly pissed-off and uncontrollable Hong Kong. Even the small, rigged Election Committee that casts 'votes' in the make-believe election is now over 25% hostile to Beijing and (very roughly) 20-25% spoilt/stroppy/self-serving.
Beijing feels it must get a meaningful-looking majority of this rabble to back Carrie, compared with CY's tragic 689 votes, out of 1,200. That means some extra kowtowing to vested interests on the body, but it also means slapping around some of these idiots behind the scenes, or more openly if they insist. Regina's thank-you-here's-your-kick-in-the-teeth is one 'visible' example of such friendly neighbourhood United Front work. As for the masses – Carrie is expected to sort out her own public-opinion hearts-and-minds stuff, so expect some waffle about pensions, etc before long. But it's really nothing to do with you.