Hong Kong ends the first full working week of 2017 suffering from an overdose of Carrie Lam. The Chief Secretary's stage-managed resignation announcement points the way to a choreographed 'election' in March through which the Chinese government will make her Chief Executive of the city (assuming a last-minute defenestration does not prove necessary).
Few of us can be more fed up with this ritual than Financial Secretary John Tsang. He feels better qualified for the top job – being more popular, less associated with the evil Communist psychopath incumbent CY Leung, and relatively groovy and in touch with the young folks whose alienation from China should be a major worry to Beijing. Yet China's authorities are making a big show of having forgotten that he exists.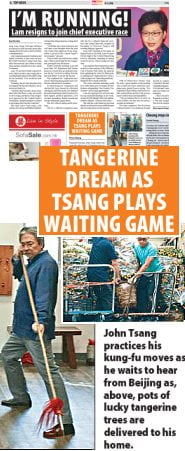 At best, Beijing might view him as an emergency substitute in case something horrible happens to Carrie. The Communists will have noted that John is not convincingly servile towards them. His relatively positive public opinion poll ratings don't help. The United Front in Hong Kong sweats and toils to maintain a coalition of dozens of shabby and grasping little 'sectors' because the obvious way of securing local support – being decent to everyone – just isn't an option when the whole world is out to get you. Being popular among Hongkongers is a mark of untrustworthiness.
The Standard gently mocks John as he gets his New Year orange trees delivered and re-lives adolescent Bruce Lee fantasies. The rumour is that he will be fobbed off with some lame pseudo-job like Grand Vizier of the Belt and Road Investment Bank. Alternatively, he could go semi-rogue like ex-Chief Secretary Anson Chan, now a moderate and semi-detached member of the pro-democracy camp. He could end up becoming an 'unlikely' pin-up hero Localist icon – an idea that would unite both the Chinese Communists and the young radical nativists in horror.
I declare the weekend open with a plan to recover from the recent surfeit of Lam – an Inspection Tour of a Pearl River Delta backwater for several days, with no Planet Earth Internet connection. (It's actually disturbingly close to Carrie's holiday home, but I trust she will be busy here.)