One of the more enjoyable analyses of the downfall of Hong Kong Chief Executive CY Leung appears in the NY Times today. How can you resist this?
His administration tried to change school curriculums to add history and civic-education classes extolling the Chinese Communist Party. It has appointed power-hungry loyalists to run Hong Kong's universities. It has funded militant or Communist youth league-type organizations. It has facilitated the immigration and integration of people from the mainland, which many Hong Kongers see as a form of creeping colonization. The government's official think tank is headed by ultra-Maoists-turned-ultra-nationalists.

… Mr. Leung has committed, in the parlance of Chinese communism, the sin of ultra-leftism.
One tiny nit-pick: the National Education push was essentially unfinished business left over from Donald Tsang's administration. Not that CY had anything against the principle, of course. But he basically picked up his predecessor's plan – badly thought-out apparently because Sir Bow-Tie simply didn't take it very seriously (the idea going back to some off-hand blather from then-Big Boss Hu Jintao).
A similar point of information may be in order about current CE-hopeful Regina Ip. The then-Security Secretary did not resign in disgrace as a result of her failure to implement Article 23 in 2003; she had already planned to quit government to accompany her daughter to college in the US.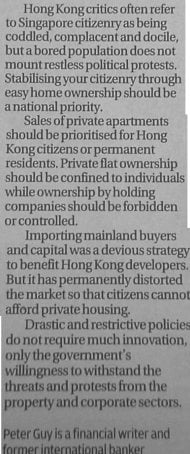 It is not necessary or desirable to embellish these people's lists of disasters.
The NYT piece focuses on how CY alienated even pro-establishment elements in Hong Kong through his obsessive (verging on deranged) attempts to wreck the city in order to save it for the holy Communist faith. In so doing, he also abandoned the original social-welfare emphasis of his 2012 'election' platform. He hit the ground running, sort of, by barring Mainland mothers from giving birth here, half-curbing the milk-powder smuggling frenzy and ordering dozens of street-side elevators to help old folk cross roads on overhead walkways. Then along came Occupy, the pro-independence scare and all the subsequent mayhem.
The Big Mutter right now is that the next CE must concentrate on getting this livelihood stuff right this time because you're sure as hell not going to be getting universal suffrage, and the alternative is more radical splittist youth uprising threatening national security. Peter Guy in the South China Morning Post sets out simple benchmarks by which we can measure how serious Beijing's appointee is going to be on the key question – to fix housing or not?
Is the prospect of young separatist rebellion sufficient to frighten pigs into flying?