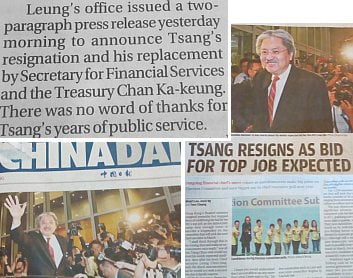 If we were to be really cool, hip and trendy, we would treat the Next Hong Kong Chief Executive Guessing Game with disdain. Beijing will choose someone who will obey its orders – nothing else matters. It would make more sense to chatter excitedly about who will be running the Liaison Office or the HK and Macau Affairs hierarchy. Why lend credence to the pretense that some sort of up-for-grabs election will decide Hong Kong's next leader?
One reason is that the Chinese government's locally based officials are micro-managing the process obsessively. They work hard to bolster the loyalist vote in the (already adequately rigged) Election Committee, and they discreetly steer potential 'candidates' towards or away from participation. They seem to be doing more than just conjuring up an illusion of an election. Perhaps they are making work for themselves to justify their own Liaison Office bureaucracy. But it seems likely that the Communist Party likes to arrange a bitchy beauty contest to see what happens before finalizing its decision; it still has complete control over what happens later.
(It is important to remember how complete. Let's say Mr Popular, with overwhelming support in public opinion polls, managed to get on the ballot and threatened to make Beijing's pre-ordained winner look bad. Something nasty from Mr Popular's past would suddenly come to light – an illegal basement, evidence of marital infidelity, or whatever. More likely, Mr Popular would already have been dissuaded from taking part. The Communists don't leave these things to chance.)
To add to the Liaison Office's semi-challenge, pan-democrats scored impressive victories in those parts of Sunday's Election Committee Subsector Blah-Blah Elections in which humans vote for competing candidates. The Standard offers a good graphic…

The pan-dems even had some success in the Chinese Medicine subsector, which is traditionally a United Front stronghold (resentful of anything Western, dependent on public money, etc).
The worthless and superficial rent-a-quotes in the South China Morning Post conclude that this shows professional elites are unhappy. Of course, the whole population is unhappy – the lawyers, teachers, nurses, architects, etc subsectors are simply the only outlets for genuine public opinion in the tightly rigged Election Committee structure (check out the number of uncontested seats).
Which brings us to Financial Secretary (Resigned) John Tsang. The SCMP reports that he is the most popular potential Chief Executive candidate in public polls, and the most likely to win the backing of the pan-democrats. The paper adds that 'This bodes well for Tsang'. Oh yeah?
Reading between the gaping lines, Beijing is currently earmarking Chief Secretary Carrie Lam for next CE. Regina Ip could go on the ballot alongside her as the nasty option everyone hates. The pro-dems could nominate some hapless, charisma-free no-hoper from the Civic or Democratic Party. Carrie would come out ahead in the public opinion polls, and the Election Committee rubber-stamp 'elects' her. All very neat. Hong Kong continues lashing out as it spirals down the toilet for another five years.
If the Communists were Amazingly, Dazzlingly Original, Creative and Super-Smart, they would pre-select a Mr Popular as next CE, and lure the pan-dems on the Election Committee into backing him. This would take effort: the individual would have to be suitably nuanced about things like Article 23 national security laws and political reform, and obviously some pro-dems would split away. But it could – in our wildest dreams, at least – transform the mood in Hong Kong. John Tsang is presumably hoping something like this might happen. (We will leave his unimpressive record to one side.)
Needless to say, Xi Jinping's inner circle will not and cannot be this subtle. Splittists. Crush. End of story. If John persists in butting in, he may need a visit from someone with an envelope containing ambiguous photos from a long-forgotten Mainland karaoke evening.