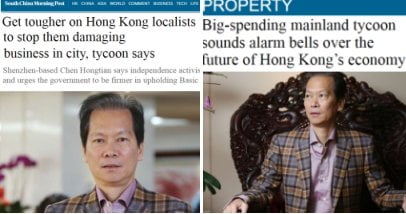 The South China Morning Post devotes both its main and business sections' front pages to a hitherto unheard-of but Extremely Important and Probably Intelligent and Influential tycoon from the Mainland called Chen Hongtian. (Shenzhen-based. We could add 'property and finance', but you guessed that.)
He runs an assemblage of Mainland and Hong Kong plutocrats with the menacing and sinister title of the 'Harmony Club'. (It aims to strengthen the cooperation between enterprises and government, between banks and enterprises, and between Shenzhen and Hong Kong' – thus a United Front-linked trough-space distribution machine.) He bought a Hong Kong home for HK$2.1 billion and a Wheelock office tower in Hung Hom for HK$4.5 billion.

Now he dutifully blasts Hong Kong localists, because obviously anyone possessing such immense wealth and with such an impressive sense of Mainland nouveau-riche style must deserve our rapt attention as a noted authority on all matters to do with the city. (It's the old 'might stop investing here' threat-or-promise that Li Ka-shing used to come up with before he calculated that Greater China has jumped the shark and the opportunities are in the UK/Europe.)
Meanwhile, Hong Kong supposedly eagerly anticipates the December 11 Election Committee Sub-sector Elections. You are supposed to see the process as the selection of a sort of electoral college. In fact, a rigged group of voters elect a smaller rigged group of voters, who – after Beijing has already decided the winner – will cast ballots in the March 2017 'election' for Hong Kong's Chief Executive.
Some pro-democrats are allowed to participate in limited segments of the selection process. They debate how seriously to take it – they don't want to legitimize a charade, but in theory they could cast votes in such a way as to highlight the farcical nature of the exercise.
The pro-establishment shoe-shiners who take part mostly pretend to take it seriously. Indeed, some may actually believe they are part of a privileged group of insiders whom the Communist Party has allowed to wield some power.
Since Beijing decides the winner ahead of time, no individual in the pro-Beijing camp will be presumptuous enough to express an intention to 'run' as a candidate for CE unless invited to do so. And because shoe-shining and obeying Beijing is key, no loyalist Election Committee Sub-sector Elections voters will openly support anyone at this stage – it would be a Communist United Front form of social death to back the 'wrong' candidate.
So all the shoe-shiners smugly grin and claim they have 'not yet decided' who to back. Last week it was a pro-Beijing group of engineers saying, after four years of mayhem, it was too soon to decide whether CY Leung deserves a second term as CE. They have to back Beijing's eventual choice, because their pockets come first, and they believe their industry will be rewarded with yet more contracts for white-elephant infrastructure projects.
And today it is the accountants, blathering about how it is 'too early' to decide one way or the other, though sheepishly conceding that not everyone is rapturously wild about the status quo. What will the accountants get as a pat on the head for their obedience? Maybe a more-complex tax code – or just a few Bronze Bauhinia Medals. I guess the white-elephant projects generate fees for accountants at some point.