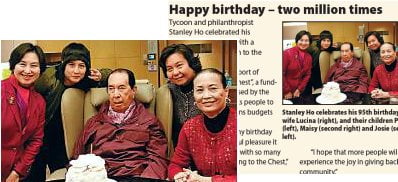 For many years now, every December 31, amateur actuaries with a twisted sense of fun have put casino/property mogul Stanley Ho at or near the top of their Hong Kong Celebrity Death Pool list. And every January 1, as they tick off their correct predictions and calculate their winnings, they ruefully note that the old guy has breathed another 12 months.
With just five weeks of 2016 to go, it looks like Macau's most prominent tycoon has defied the odds again. The ever-groveling Standard celebrates Ho's 95th birthday with a grinning-family-plus-cake photo and an enthusiastic account of the sprightly billionaire flinging money at worthy causes. A close look at the picture suggests a near-phantom, briefly unplugged from the hi-tech equipment at the hospice, unaware of anything, especially the vultures circling overhead.
I'm still not convinced. Shouldn't there be a copy of yesterday's newspaper on the table?
I declare the weekend open with an exciting selection of diversions. Another believable and generally grim outside-looking-in analysis of Hong Kong's struggle against Chinese Communist Party oppression, including the phrase 'irreversible feedback system' (of the sort 'that runs the risk of making Hong Kong, one of Asia's most important international cities, ungovernable'). And talking of casino owners – an abandoned 1990s documentary about Donald Trump, in which business contacts, neighbours and others say pretty much what you would expect. Then, we have free booze…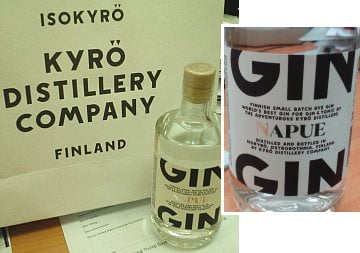 …being given away by Finland's Consul-General in Hong Kong, if you come across him. I think the message is: since you people don't buy Nokia phones any more, we're desperate and going into the gin business, so try some.
Lastly, a (for some reason blogspot.hk) site that is essentially a shrine to 1970s UK civic/municipal communications-materials design and ethos, by way of a creepily surreal parallel universe – Scarfolk…