The United Front takes a few minutes to rearrange a humble panel discussion. As always, the omniscient Communist blob acts unseen and silently, yet unmistakably. Prominent pro-Beijing politician Tsang Yok-sing awkwardly backs out of a Project Citizens Foundation forum delicately titled 'Governance in Hong Kong: Are the Pillars Crumbling?' He thus avoids appearing on the same stage as former Governor Chris Patten, whose non-acceptability to Mainland Chinese officials now presumably extends to the Hong Kong establishment.
The Foundation has various free-thinking and opposition connections, from former colonial number-two Anson Chan to HK University law faculty to independent media boss Tony Tsoi. This may account for the rather lackluster selection of panel members, with local officials and establishment figures shying away, leaving only old white guys like businessman Simon Murray and HKU head Peter Mathieson willing to take part. But Patten is the Big Untouchable at this event.

Tsang's submission to the United Front's invisible and non-attributable bullying is at least reported in the English press – partly because Patten is still slightly newsworthy, but mainly because the papers try to conjure up an angle with the supposed possibility that he could be the next Chief Executive (Tsang, that is, ha ha). In truth, it's simply a phobia about giving any sort of face to the non-person ex-governor. It will be interesting to see whether the good folk of Hong Kong come to pay nostalgic homage to the Brit, as they have in the past.
The curious case of the Hong Kong Army Cadets Association gets less coverage. The uniformed youth group, which mysteriously materialized out of nowhere in the wake of the Occupy/Umbrella movement in early 2015, is getting valuable premises and dollops of cash from the government, while other organizations go without. That's your tax dollars.
Some commentators go for the superficial and facile angle – that this is favoritism for Chief Executive CY Leung's wife Regina Tong, who is the improbable Commander in Chief, or a conflict of interest for Home Affairs Secretary Lau Kong-wah. We can reasonably presume that neither of these individuals could give a damn about the HKACA or stand to benefit in a material sense from these handouts.
What is really happening is an upgrade to the contrived and embarrassing youth group, no doubt in response to the growth of localist (separatist, pro-independence) sentiment among Hong Kong's young people. (The same goes for recent rumblings about boosting Chinese History classes in schools.) The HKACA seems to have been launched largely as a PR stunt aimed at assuring Beijing; the government is now trying to normalize a 'patriotic' version of the traditional Boy Scouts to indoctrinate the city's wayward youth.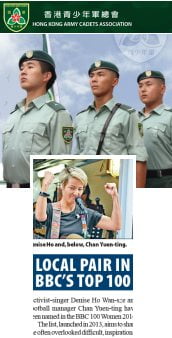 Other youth groups in Hong Kong have developed organically over many (colonial-era) decades and are part of the local hybrid culture and civic identity. The HKACA is basically fake, and its nationalistic/pro-Communist agenda and PLA influence – however well downplayed – is alien to most local people. (It has a website, though the simplified Chinese and English versions aren't there. More ranks than members!) It's an uphill struggle. Meanwhile, teen hero Joshua Wong goes to Washington DC to get evil foreign powers to interfere in Hong Kong's internal affairs.
When not pressuring people to keep away from Fatty Patten or getting the media to downplay handouts for the HK Red Guards, the United Front uses every trick in the Leninist book to squish non-conformists and warn and intimidate others. It got cosmetics cowards Lancome to ditch singer Denise Ho. Then the BBC ruins it all by putting her in a women-of-the-year list, and the idiot Standard goes rogue and reports it. The spiteful and vicious yet infantile and obsessive work is never done.
And this just in. More of same…
A plug: a couple of the above links were chosen because Hong Kong Free Press covers subjects that other English outlets downplay or avoid. They are having a fund-raising drive – go to it here.