The South China Morning Post's op-ed page goes into total patriotic mode today.
One Norbert Knittelmayer (cross-border investment guy from Dusseldorf, thus totally objective) criticizes Germany's government for its skepticism about Chinese state-linked companies scooping up sensitive tech companies. Berlin, he says, should instead be wetting itself in delight at (cue fanfare) Belt and Road Opportunities…

We stride deeper into mind-warping territory with one Zhou Bo – PLA expert, etc – who lauds Philippine President Duterte's wisdom and statecraft, and explains that the US is the only threat to peace in the South China Sea…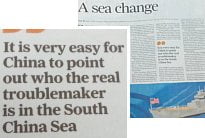 And we get into full-on hallucinatory selective and revisionist dream-land with Liu Jia, executive at China Everbright, who informs us that Hong Kong's success as a financial centre had nothing to do with colonial rule, but was due to Mao…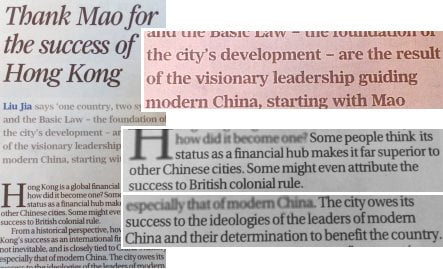 (I get it: he didn't starve millions to death here!)
The SCMP's political editor offers partial relief in a column pointing out that Beijing's obsessive interference in Hong Kong is likely to increase rather than weaken alienation and pro-independence sentiment among the city's young people – but not without a laborious pre-emptive cringe to assure the Work Unit's Party Secretary of his correct understanding…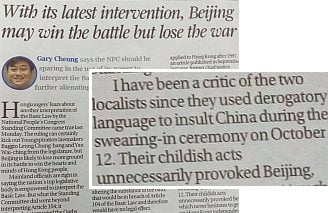 The post-interpretation court judgement on the Youngspiration oath-mutilation case is later today. Whatever the outcome, we are in a self-perpetuating cycle: China's psychosis about Hong Kong creates Hong Kong hostility to China, and so on. To the infallible Communist Party, if the people distrust the government, it is the people who are at fault and who must correct their attitudes – the foot-stamping and ranting will continue until they do.
Under the Leninist system, the law and courts defend the regime from the people, not the other way round. If Hong Kong's judicial independence and rule of law threaten Beijing's hyper-sensitive and insecure perception of sovereignty, they must yield. Unlike the civil rights crowd, the pre-emptive cringers of the business community stay silent. Their hope is that while the Communist party might shred due process for trouble-making youths, middle-aged men in suits are so important and special that British colonial-era legal protection will remain fully in place for them.
A risk consultancy offers advice (final bullet points 2 and 4) to companies that dare to worry. It is moderately worded, but you could infer it as saying that decent, clean-living, Western businesses should a) examine exposure to Liaison Office or Chinese government intimidation/bullying, and b) consider the possibility of being screwed over if they conflict with Chinese state-linked companies or individuals in Hong Kong courts.
As I have been saying for years: those who live by the shoe-shine, die by the shoe-shine.