This is the beginning of the end for Hong Kong, with 'One Country Two Systems' in shatters and rule of law now nonexistent. At the same time, the Hang Seng Index – crude but dependable proxy for day-to-day common-sense reality – ends up 159 points.
This is usual with Basic Law 'interpretations'. Each one, in its own way, has infringed legal principles and damaged rule of law – but with a narrow intent. Procedurally, they offend fundamental values, but they chip away only tiny parts of the legal framework, so 99.99% of life goes on. In this sense, Claudia Mo's hysterics are over the top, and even the clichéd 'boiled frog' analogy is inapt. At this rate (five times since 1999), it will take Beijing decades to damage Hong Kong's legal system so badly that life as we know it collapses.
The 'interpretation' mechanism exists to override Hong Kong's laws and courts, thus bringing the city's independent judiciary under the national umbrella of a one-party state that cannot accommodate separation of powers. In practice, it is used to fix faults and plug loopholes in Hong Kong's Beijing-bestowed autonomous legal structure – but in a face-saving way (the Communist Party wrote a flawless Basic Law, but dumb Hongkongers need to have it explained to them).
The most laughable 'interpretation' was the one that decided that a replacement Chief Executive stepping in to finish a predecessor's uncompleted term would nonetheless go through an 'election' and subsequently be considered to have served one whole term – a ludicrous contrivance to send a message that Sir Donald 'Bow-tie' Tsang wouldn't be around for too long.
However, this latest diktat is decidedly non-funny. It is aimed at barring at least two localist (and possibly other, including non-localist) elected members from the Legislative Council. In other words, it establishes a loyalty test to prevent the election of people who hold particular opinions. It is still an 'interpretation' in that it identifies and corrects a specific fault in the laws Beijing allows Hong Kong to use. But it is one for the post-2012 clampdown-on-everything-repeatedly world. It is interpretation in the time of Xi Jinping – an era when you can be snatched off Hong Kong streets and smuggled across the border for a forced confession, but only if you're publishing a book about the Communist Party leader's mistresses (otherwise you're still fine).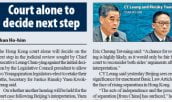 This decree essentially writes new law, intrudes in our elections (to an already rigged and largely powerless body), and it introduces bizarre and alien concepts such as legally forbidding a lack of sincerity. But freaking out about it will achieve nothing. The Oath-taking (Separatists (Smirking (Prohibition))) Ordinance is not going to bring the city crashing down. It is going to be part of reality, and the issue is how people adjust to it, and whether pan-democrats can put the idiocy of the ruling to good use.
For example: is a Legislative Council from which democratically elected candidates are barred a terrible and distressing injustice – or is it an opportunity to highlight the irrelevance and illegitimacy of the whole political system? How can forthcoming by-elections be fought (or boycotted) to maximum effect? If localists and other pan-dems are barred from the legislature, where do they go, and what do they do? And, just as the pan-dems are about to splinter and screw up, will Beijing really be dumb enough to have another go at Article 23?
Beijing's Li Fei, who announced the ruling, made it clear that the Chinese leadership is alarmed at splittists in Hong Kong (we'll leave aside the possible CCP power-struggle angle). The Xi regime seems clueless about the extent, let alone the causes, of disquiet in Hong Kong. Chinese officials apparently expect this latest legal contortion to somehow make pro-independence sentiment disappear, and all will then be well. The phrase we keep hearing is 'nip it in the bud', as if the tiny idea has barely sprouted. Instead, by dumping this manure on the place, Beijing is surely helping the noxious weed spread faster than ever.
Meanwhile, Taiwan and the world may like to note how the mighty resurgent 21st Century's greatest superpower is intimidated by a handful of Hong Kong's geekiest kids.