As Hong Kong's strange oath-crisis moves into the High Court, whose political careers are most under threat? The most obvious answer would be Youngspiration lawmakers Sixtus Leung and Yau Wai-ching. On the other hand, maybe it is Chief Executive CY Leung who is fighting for his life.
To the casual observer, CY seems to be working closely with the central authorities in Beijing to crush pro-independence forces, most likely arranging a rule-of-man 'interpretation' of the Basic Law to banish localists from the city's Legislative Council. The Standard, however, sees Beijing as the driving force – and the 'interpretation' option as a slap in the face for CY following his failure to solve the problem locally.
Then there's the intriguing Sing Pao, Mainlander-owned and obviously pro-Beijing but venomously anti-CY and on a mission to destroy the Chinese government's whole Hong Kong Affairs hierarchy. It is claiming that CY and his Liaison Office minders stirred up the pro-independence chaos to start with and are now spreading false stories about an 'interpretation' as part of the aforementioned hierarchy's broader corruption – for which Xi Jinping will surely punish them in future.
The Hong Kong government's latest status where interpretation is concerned is: 'trying to distance itself from it'.
One explanation for the weirdness comes from the venerable Ching Cheong, who theorized here and now here that Xi – having screwed up Hong Kong policy from 2014 – is now trying to offload the blame onto CY and Liaison Office boss Zhang Xiaoming and others higher up in the bureaucracy of Jiang Zemin protégés.
Some pro-independence/localist groups in Hong Kong have suspected the Youngspiration group of being a puppet of the Hong Kong government. Given that Sixtus and Ms Yau are clearly the main target of the current witch-hunt, conspiracy theorists could have fun linking them with Xi.
We will assume this is not the case. For the sake of argument.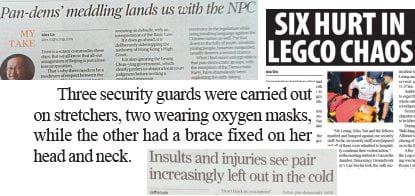 Their tactics – seen in yesterday's Legislative Council incursion – are in danger of playing into CY's hands. (The guy has even seen an uptick in his rock-bottom poll ratings.) A few LegCo security guards who slip to the ground end up being rushed to hospital like traffic accident casualties. They're all fine, of course, but oxygen masks are great props, and the media leap at the chance to portray Youngspiration as violent troublemakers, while other pan-dems edge nervously away.
They need to go back to basics. The government wants them to want to be in LegCo. But they did not run for election because the assembly is an important, influential institution where they can help fix Hong Kong's problems. They ran to show that, in line with the whole political structure, it is a mainly toothless, rigged body that is designed specifically not to benefit the Hong Kong people. They should be mocking LegCo's uselessness with witty theatrics rather than committing the grave error of apparently taking it seriously. Assuming they're not secretly working for CY and the Liaison Office. Or Xi.