Hong Kong Chief Executive CY Leung says he would like local courts to sort out the Sixtus Leung/Yau Wai-ching oath-taking hurt-feelings mouth-frothing hoo-hah frenzy – but he cannot rule out getting Beijing to 'interpret' the Basic Law. In other words, if the local courts don't effectively banish the Youngspiration duo from the legislature, the Chinese government will simply override the judgment with its own ad-hoc re-definition of the law. Or it might just do it anyway before the court has the chance to do its job.
A list of previous Basic Law 'interpretations' is here. Officially performed by the full-time part of China's rubber-stamp congress, it is not an original-intent or other explanation of part of Hong Kong's mini-constitution, but an out-of-the-blue shape-shifting of or addition to what it says on paper – for quick-and-dirty one-party-state expediency. The principle was perfectly summarized 150 years ago by Mr H Dumpty…
'When I use a word,' Humpty Dumpty said in rather a scornful tone, 'it means just what I choose it to mean – neither more nor less.'
'The question is,' said Alice, 'whether you can make words mean so many different things.'
'The question is,' said Humpty Dumpty, 'which is to be master – that s all.'

Lewis Carroll, Through the Looking Glass
The government's line will be that this is all above board and does not affect rule of law – but if you think it does, it's all the fault of childish traitors Sixtus and Ms Yau, who wickedly compelled Beijing into doing this.
While we wait, let's cheer ourselves up with some planning stories.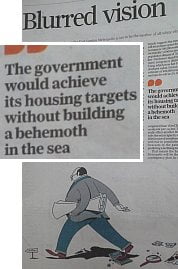 The South China Morning Post offers an op-ed worth reading, on the government's planned metropolis-reclamation halfway between Hong Kong Island and Lantau. The writer describes it as an even bigger white elephant than the Zhuhai Bridge, the Giant High-Speed Tube to Shenzhen and the Third Runway combined. He also says that sufficient land for housing already exists, if only the government could tackle vested interests. Which leads us to this horror – which is enough to make any right-minded person go up to the New Territories right this minute and just Hit Someone Really Really Hard.
The Greater Mui Wo Floating Mega-City will of course shovel countless billions to the construction and engineering parasites after the white elephants currently in progress finally exhaust their cost overruns/screw-ups and are completed. An EJ Insight article looks at perhaps the most worthless and redundant of the three – the Zhuhai Bridge. Who will use the thing?
The days when Hong Kong and Taiwan investors might have expanded their mainland factories into the west bank of the Pearl River Delta are long over. So the bridge will not groan under the weight of trucks carrying sweatshop-products to our (now declining) port. It will be handy for HK Airport, so some passenger buses and maybe cargo traffic to/from Zhuhai or Zhongshan might use it, though surely not a lot. (And as Mark O'Neill points out, a far more sensible Zhongshan-Shenzhen bridge is in the works.)
For most passengers, it will still be quicker and more convenient to take ferries between Hong Kong and Macau. The ferries serve the cities' downtowns, while vehicles taking the road-only bridge will have to park outside the urban areas – both cities are already full of traffic. So yes, they are building a bridge for road vehicles linking places where the streets are already full. (Traffic coming into Hong Kong will be able to head north through the Tuen Mun if-we-can-finish-it link, and thence proceed to Shenzhen – if they want a lengthy but scenic alternative to the aforementioned west-bank-Shenzhen bridge. From there it would take 30 minutes or so to loop right back via Zhongshan to Zhuhai where they started, like the deviants who drive the whole M25 orbital around London for fun.)
On a brighter note, the whole insane gargantuan obscenity of these erupting-pig-trough white-elephant projects almost makes you forget about 'interpretation' of the Basic Law.