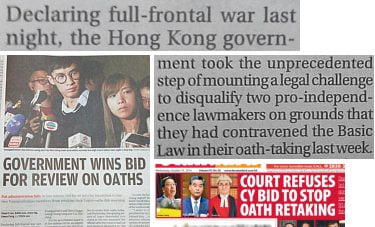 After several days of United Front-orchestrated mass-freaking-out over newly elected lawmakers' botched oath-taking, Hong Kong Chief Executive CY Leung declares what the South China Morning Post calls 'full-frontal war'.
The paper also uses the word 'unprecedented', by which it presumably means 'desperate, bizarre, and borderline insane'. Desperate because the legal action to prevent democratically returned Sixtus Leung and Yau Wai-ching from taking their seats in the Legislative Council came without warning late yesterday afternoon – the court sat late into the evening. Bizarre because CY launched the action in his own name (plus the Justice Secretary's), making the exercise more personal than necessary, appropriate or, some would say, prudent. And insane because whatever happens, the government is going to lose, one way or another.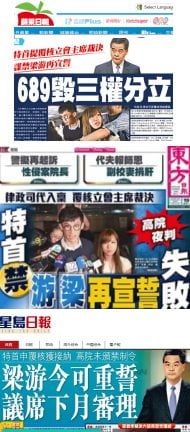 At least the initial cause is no mystery: step forward the Liaison Office (motto – 'We never sit back and do nothing if we can interfere and make things worse'). Someone in the Communist Party hierarchy has determined that splittist sentiment must not and cannot take place in the Hong Kong Legislative Council. Seen from Beijing, this is logical. This is the PRC, and any institution, including LegCo, is ultimately an organ of the state and servant of the Party. That 'separation of powers' 'freedom of expression' stuff doesn't come into it.
The Liaison Office and local puppets have calculated that the two Youngspiration members can be demonized. The mass-formation mouth-froth over the last few days stressed two angles. It highlighted the kids' 'childish antics' at the swearing-in ceremony, thus inviting disapproval from respectable, hard-working, regular citizens. And it screeched of 'hurting the feelings of Chinese people', which rouses the patriotic nationalist faithful, and ticks the right boxes in Beijing. It's classic, vindictive United Front isolate-the-enemy tactics. Then along comes this blundering, constitution-warping legal action, and it suddenly looks more like two innocent young idealists being persecuted by a psychopathic dictatorship again.
The Youngspiration pair (along with several others) will now get their second oath-taking opportunity today [or not], as previously ruled acceptable by the Legislative Council President Andrew Leung. (Just days after installing the hapless shoe-shiner as LegCo speaker, the Liaison Office has already chucked him under a bus as they continue with their hyperactive malevolence. He who lives by the shoe-shine, dies by the shoe-shine – though it's not often it happens this quickly. No sympathy required, here.)
If the courts eventually reject the application to have the Youngspiration duo barred from LegCo, it will be big face-loss time for CY and his Liaison Office masters. If the judge – not having been dragged away from dinner this time – does kick the kids out, we have new elections. It is hard to say which would be more fun.
Meanwhile, Taiwan take note.