One of many thrilling things to happen over the long weekend was a trip to Cyberport. We have all heard of Cyberport the flawed luxury-apartments-as-tech-hub real-estate scandal. We have listened to poor wretches whose companies are located in the project's Siberia-like office blocks, with its poor transport links and horrible selection of places to eat. And we have all seen the architecture on the distant coastline from ferries – the huge curved slabs that are Residence Bel Air. But few of us, who are in our right minds, have ever actually been to the place. So I decided to check it out.
The bus station has a bustling Fusion supermarket and McDonalds. After that, however, you enter a sort of twilight zone. This is what those colonies on Mars will be like when only a few zombie-like settlers have survived, but the systems keep running…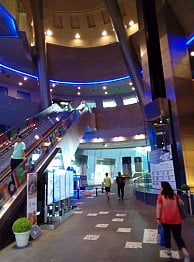 Where in Hong Kong do you have a holiday weekend and the mall is largely deserted…

And it is true that there is a dearth of interesting dining spots, even by mall standards – plasticky Japanese, Thai-Viet, Mexican, etc, plus an Irish pub. There's a cinema, which together with unoccupied units in the upper floors confirms that the retail complex has more space than tenants. A bunch of property agents (which you don't often see plying their tawdry trade inside pristine malls), one of which offers a Residence Bel Air unit for HK$190 million. And quite a few pet/kid-related outlets, reminding us that this whole place is primarily an up-market residential area.
A stroll around for some eavesdropping and mild snooping suggests that the inhabitants are well-remunerated Western expats and Mainlanders, plus some South Asians and locals – plus of course their Filipino maids. The huge residential blocks wrap themselves like a wall protecting the enclave from whatever is out there. It's home for people who find Discovery Bay too exciting, earthy, edgy, or unbearably soulful.
The waterfront park offers a slight relief from the antiseptic built-up surroundings. It has a kids' playground, the inevitable doggy zone, and some quite extensive, well-manicured lawn. It is acceptable to erect little tents for picnics. One slightly weird, freaky and disturbing sight was a group of kids playing at being maids, 'sweeping' the ground with fallen palm-tree fronds…
Apart from that, social deviance is not tolerated, and the professional and efficient local authorities guide and rule with firm Singaporean-style benevolence…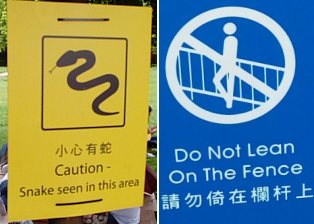 Almost. A few riffraff barbarian anarchists from Planet Hong Kong – specifically the nearby public-housing estate – sneak into the millionaires' ghetto to spread disorder and chaos by climbing over railings and fishing…