Aficionados of extreme obsequiousness were in shock for a few hours last week after it emerged that a particularly nauseating exercise in shoe-shining – a full-page ad glorifying a particular individual – was in fact a malicious sarcastic attack. Who would have thought that satire and parody would spread from our mischievously witty radicals and activists to pompous and dull establishment circles?
The personal feud in this case is of a common sort: grown adults regularly become deranged lunatics when bickering over obscure details of school governance in Hong Kong. But this unprecedented lapse into ungentlemanly public mockery could be yet another sign that the city is slipping into an abyss.
Which bring us to death threats against politicians – notably Eddie Chu, scourge of the rural mafia. The South China Morning Post's Alex Lo writes a curious column stating that, 'as everyone knows', the Heung Yee Kuk 'is a highly respected body whose leaders stand for the rule of law'…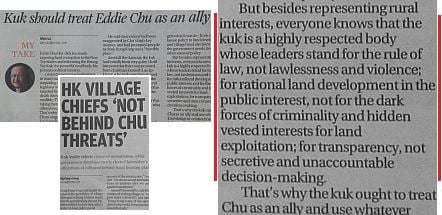 Is this satire, or not? At a first glance, it is clearly tongue-in-cheek. But on a second reading in context, it seems dead – and suspiciously ponderously – straight. The plot thickens when we go from the print to the online edition of the paper, where the same lines in the column make far more sense and allow for the possibility that the Kuk is not the pinnacle of righteousness and divine perfection…
But besides representing rural interests, the kuk's leaders must stand for the rule of law, not lawlessness and violence; for rational land development in the public interest, not for the dark forces of criminality and hidden vested interests for land exploitation; for transparency, not secretive and unaccountable decision-making.
Maybe the original intention was satire (which the SCMP has, perhaps wisely, has never tried on its largely English-as-second-language readers), and editors failed to recognize it. Perhaps the online version is more or less authentic. A simple-minded, ham-fisted, hyper-correct in-house censor would have turned the original Kuk-skeptical copy into this idiotic-sounding tribute on the assumption that that is what higher powers would want – and this went to press. Someone with brain cells subsequently fixed the online version.
The delicious ironies continue.
Our new Mainland-made electronic buses have been kept off the streets…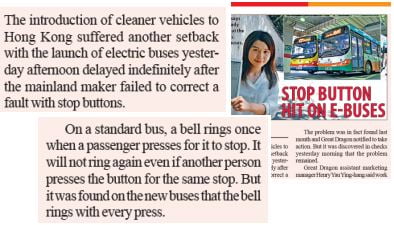 You would have thought the stop button would be the one part of an electronic bus that worked perfectly.
And then we have the tragic fate that has befallen a billionaire. Two years ago, businessman Jim Thompson denounced the 'spoiled brats' of the Umbrella Movement (now known as 'newly elected legislators') and nostalgically recalled how their illegal-immigrant forebears lived in tin shacks and stole to survive. Anyway – now an upwardly mobile Mainland burglar has progressed from village-house noodle-snatching to ransacking Jim Thompson's luxury home, and even swiping his Gold Bauhinia Star…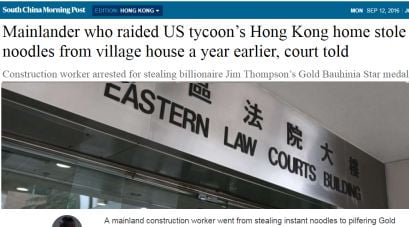 Well, I think it's funny. Karma, perhaps.