We interrupt today's scheduled Positive Energy to bring you what looks like a rancid pile of the Chinese Communist Party's dirty laundry.
Reliably pro-Beijing newspaper Sing Pao accused Hong Kong Chief Executive CY Leung and his minders in the Liaison Office of building a 'Hong Kong independence' threat out of nothing, as part of factional struggle within the CCP. The article said the Liaison Office's interference in local affairs was damaging the city, and it called for central government discipline enforcers to step in. Criticizing CY is not such a big deal, but for a patriotic organ to make allegations against Beijing's official emissaries in town suggests either a death-wish or the influence and protection of someone very high up in the Chinese power structure. (By 'make allegations against' we mean 'blurt out the well-known obvious truth about'.)
Wen Wei Po, an arm of the Liaison Office, reports that Mainland police want Sing Pao owner Gu Zhuoheng for a P2P money-lending scam in Shenzhen – a thing dating from last year. Mainland police regard him as a fugitive, on the run (presumably not in Thailand, or Causeway Bay).
The South China Morning Post files it under 'Media'. Really…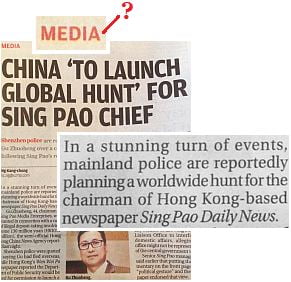 It is hard to imagine that Gu's paper is attacking the Hong Kong authorities to somehow divert attention from Mainland criminal charges against him – though in the world of Mainland tycoons with political links, anything is possible. The more rational explanation is therefore CCP infighting.
As Mark O'Neill said on RTHK this morning, this sort of Mainland power-struggle BS isn't supposed to break out here in Hong Kong. The well-water and the river-water, those of us with long memories will recall, should not mix. As other past Communist officials put it, Hong Kong is 'an economic city, not a political city'; we're not supposed to squabble about our own local affairs, let alone host the CCP's internal bloodletting.
The Sing Pao thesis is that CY and the Liaison Office are part of a 'hawkish' faction in the
Communist Party. This implies that a 'less hawkish' faction is, via Sing Pao, stabbing them in the back. In Mainland government office-politics, it's usually the other way round: officials in Tibet and Xinjiang who try to accommodate local culture end up being denounced and replaced by tough Han-supremacists who demolish temples and ban beards. No-one ever lost their job for being too hawkish. But the allegation here is that CY's invention of an HK Independence movement is not just about career-boosting, but ideological struggle at top national leadership level.
If the 'hawkish' faction is part of some group (Jiang Zemin/princelings/rogue PLA/etc) opposed to Xi Jinping, CY and his Liaison Office buddy Zhang Xiaoming are toast. (Either that, or Xi is.) If this 'hawks' faction is onside with him, Xi will keep them very much in office as a matter of being seen to maintain and consolidate his control. Perhaps, if we are to cover all possibilities within this murk, the faction could be hawkish but with no strong feelings either way on Xi. A Hong Kong Legislative Council election is such an innocent and inconsequential child's game, isn't it?
If CY Leung were active in some ultra-nationalist/xenophobic Communist Party coven at war with modernizing/internationalist rivals in the hallways of Zhongnanhai, it wouldn't be that much of a surprise. In fact, it would be a shock – almost disappointing – if he wasn't. But to the extent he cares about his local image, it's unhelpful, however much he cares about old people's teeth. The timing isn't great (we were supposed to be jumping up and down over Olympic gold medalists and the G20 thing, and voting for Starry on Sunday, and mocking the idea of John Tsang as next CE). And whatever it is that's going on, it's making 'One Country Two Systems' looking more than ever like a bad joke.
I mean, how Mainland is this…