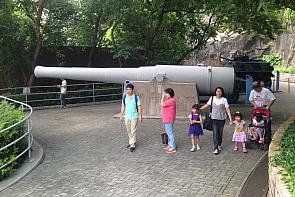 Here's something you don't see every day in Hong Kong…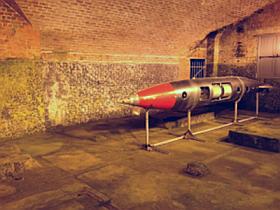 It's the torpedo station at Lei Yue Mun, which guarded Victoria Harbour in the 1890s. This is a replica, but the actual weapons were guided, and were powered in a forward direction by being pulled backwards. Freaky stuff.
The main reason to finally, at long last, visit the HK Museum of Coastal Defence was to see the exhibition on Puyi, China's last emperor. During his time from 1906 to 1967 he was Qing ruler, the Republic's deposed monarch, Japan's puppet head of Manchukuo, enemy captive of the USSR and ultimately a war criminal-turned-propaganda pawn of Mao's PRC.
I've never seen the epic movie, but this review accuses director Bertolucci of adding a load of love-and-sex excitement that never happened in real life. The reviewer notes that Puyi's own memoirs indicate a murkier existence ("…by the age of 11, flogging a eunuch was a part of my daily routine.") But he would have written the autobiography under the direction of Beijing officials anyway. China's reverse-takeover of Manchu culture and history, and the lack (so far as I know) of any sort of Manchu diaspora or authorities-in-exile, mean we probably have no idea how much accounts of Puyi are semi-fabricated or distorted…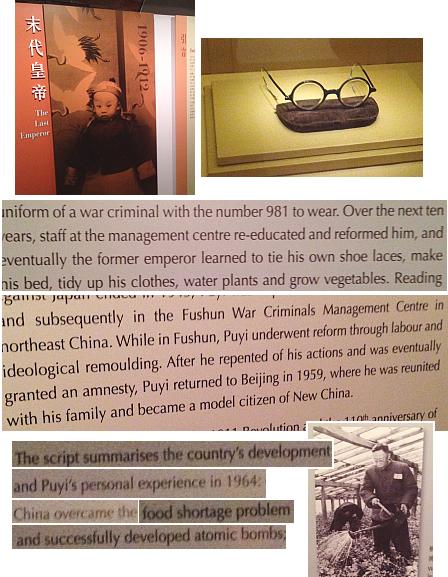 The exhibition draws on material from Mainland institutions. In truth, there's not a huge amount to see (and there's always that nagging feeling with items out of Mainland museums that it's all fake, anyway). The main problem is that the exhibits are crammed into the tiny cellar-like store-rooms of what used to be a British gun emplacement, making it hard to squeeze in alongside any other visitors – not one of the Leisure and Cultural Services Dept's smarter decisions. Look at it as a good excuse to visit the Museum of Coastal Defence.
This is basically Hong Kong's military museum. Along with the old fort, some old Brit armoured vehicles and a nice view of Lei Yue Mun, the place has a small permanent exhibit devoted to the UK forces' historical local presence. Nothing very fascinating, but post-1997, this has to be matched with a parallel display about the PLA, which is predictably jarring…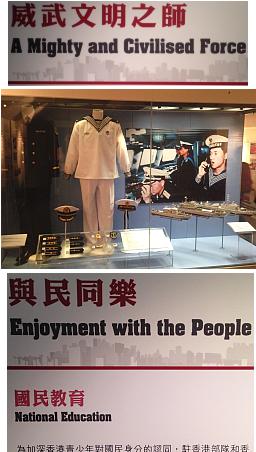 Like Puyi, perhaps, we are all being re-educated to become model citizens.