It is hard to believe that someone out there takes the September 4 Legislative Council elections really, really seriously. Whoever it is, you would think, they must be pretty clueless and out of touch with what's happening in Hong Kong. At the best of times, Legco is a constitutionally weak assembly with a rigged membership. Post-Occupy, with Beijing having unequivocally ruled out universal suffrage, the action is going to be elsewhere. Legco is an irrelevant talking shop, and it probably makes little difference what bills and other measures it passes or doesn't pass, and thus who wins or doesn't win seats.
But there is somebody who sees the Legco elections as a matter of life and death. Who could be so deluded and obsessed? Step forward, China's local Liaison Office.
Although there is not going to be any evidence linking Beijing's local enforcers to the Ken Chow affair, their fingerprints are all over the place. In New Territories West, someone (allegedly, etc) unsuccessfully tried to bribe the Liberal Party's Chow not to run in the election. Now someone (allegedly, blah blah) has threatened him and his family, and, in tears, he is 'suspending' his campaigning. The main beneficiary, in theory, would be Junius Ho, pro-Beijing lawyer and rural leader, who is running as a supposed independent and would like the conservative businessman vote that might favour the Liberal Party.
This follows earlier friction within the pro-Beijing camp between the 'official' Communist Party-front DAB and loyal-when-it-suits-them rural/feudal interests. The Ken Chow drama seems to be partly about patching up that rift, while also punishing the supposedly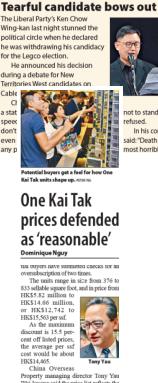 pro-Beijing Liberals, whose disloyalties (in the eyes of Liaison Office officials) include openly detesting Chief Executive CY Leung.
Like so many other United Front attempts to consolidate supporters, frighten waverers and crush opposition, the net result of the whole episode will be repel and alienate most decent-minded onlookers. Not that it will occur to the dolts and thugs in the Liaison Office.
Meanwhile, fate delivers a little gift to anti-government Legco candidates who want some last-minute ammunition to use against opponents who support the administration. CY Leung's rather (OK, astoundingly) lame plan to reserve some private housing for sale to Hong Kong people only has come to fruition in the form of a development called One Kai Tak. The price for apartments there: between HK$15,000-18,400 a sq ft or, if you're the Standard and hate to cast property tycoons in a bad light, an average HK$14,400 after discounts.
The developer points out that no-one ever said anything about these 'For HK-ers Only' homes being affordable.
For people unable to afford Hong Kong's sky-high housing prices – apparently on a perpetual upward course that must take them to HK$45,000 per sq ft, HK$200,000 per sq ft, HK$25,000,000 per sq ft in the years of moderate inflation and low median household income growth to come – I declare the weekend open with the reassuring words of Herbert Stein: "If something cannot continue forever, it will stop." Of course, he never saw the Hong Kong property market.