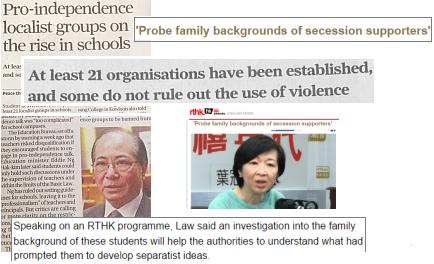 We are here to stuff fears, suggestions, fantasies, dramas, delusions and the overall concept of Hong Kong independence down your throat until you agree that it is a big, bad, ugly horror to humanity. Executive Council member and former senior civil servant Fanny Law talks endlessly about how we mustn't talk at all about Hong Kong independence. She is especially freaked out about people discussing it in schools – for any reason that comes to mind, but right now on the grounds that it is too complicated unless you also understand the first Opium War. (You must admit, she gets 10 out of 10 for complicated.)
Secretary for Education Eddie Ng's latest view on this pressing subject depends on what Beijing last told him.  Last we heard he was OK with talk of independence in schools provided it was in line with the Basic Law. I don't think he means Fanny, though you could be forgiven for thinking she is the most 'basic' Law around at the moment.
That would be a shallow, snide comment without some sort of proof. Which brings us neatly to Fanny's new bright idea, which is to look into the family background of pro-independence students. History provides us with a rich choice of ways to do this, such as:
Measuring their noses
Testing for extra Y chromosome
Weird forehead
Grandfather was a member of landlord class who starved the peasants
Wasn't breast-fed/prolonged eczema misery as infant/spent whole childhood locked in dark spider-infested cupboard by evil step-mother
Hereditary predisposition to oppose totalitarian rule, mind-control, ex-civil servants with mad staring eyes stirring up witch-hunts at behest of Communist overlords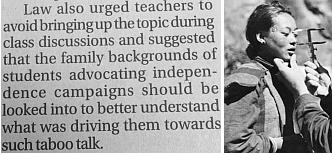 Meanwhile, the South China Morning Post reports hundreds of pro-independence localist groups (don't you mean 'cells'?) springing up in schools. Could these be the Hong Kong public schools that are still closed for Summer Vacation? Yes. Oh, and by 'groups', we mean Facebook pages, many of which could be started up by one or two mischievous kids waiting for classes to re-open in a week's time, or indeed by Fanny Law as part of some demented 'false flag' operation.
In fairness to Fanny, it could be she wants to investigate the family backgrounds of deviant-thinking children in order to find socio-economic causes of dissatisfaction with the state of governance in Hong Kong and the Chinese regime that imposes it on the city. For example: the family lives in a barely affordable subdivided apartment; the family hoped CY Leung would deliver on his promises for affordable housing after he became Chief Executive; instead, property prices have risen another 50% since 2012; the parents complain about this to each other; having only 100 square feet to share, the kid overhears them; the kid starts a pro-independence terrorist squad with his buddies in Form 3. She might learn something.
See here for a good summary of how this mess has been and is still unfolding. Talk about resurrecting Article 23 looks certain before long. It is hard to say at what point Beijing bites off more than it can chew, but it does seem that the fun and excitement is just beginning.

('Class' enemies – geddit?)