Hong Kong's witch-hunt against dark and evil pro-independence forces continues. Communist newspaper Ta Kung Pao sends a reporter out to smear and goad localist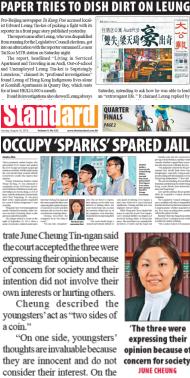 superstar Edward Leung. And following the contrived panic (from contrived 'Academy of School Managers' group) about pro-independence teachers, another United Front mob called Real Hongkongers' View gather outside a teachers' union to accuse it of encouraging sedition, splittism and devil-worship. The Education Bureau, as if fearful of being left out, yaps its approval.
No-one has ever actually seen a pro-independence teacher.
The above four links respectively report: character assassination, violence, intimidation and threats of being fired. Insofar that this campaign is fighting a barely existent, mainly imaginary enemy – a Hong Kong 'pro-independence movement' – it would be funny. But the way even fairly moderate figures and government agencies are being required to publicly align themselves with this artificial hysteria is creepy.
Possible reasons Beijing's Liaison Office is mounting such an elaborate crusade, in increasing order of likelihood:
They really believe there is a CIA plot to mount a local coup and set up a puppet independent Hong Kong city-state from which to overthrow the Chinese Communist regime
They are trying to provoke a mass movement or incidents to justify sending the tanks in and eliminating free Hong Kong once and for all
Their bosses in Beijing really believe there is a CIA plot, and they are too afraid to disagree
They are trying to convince their bosses in Beijing there is a CIA plot, so they can 'crush' it, thus get bonuses and promotions
This is a Leninist United Front attempt to condition Hong Kong into accepting the banning of ideas and criminalization of thoughts as normal, reasonable and necessary
This is a Leninist United Front attempt to force moderate officials, professionals and others who prefer to keep their heads down to publicly declare their loyalty (or implicitly declare disloyalty)
Anything I've missed? (They're all on drugs, or something?)
For anyone keeping a list, don't forget to add another area of creeping Mainlandization in Hong Kong: financial market analysis. The Communists are so far keeping their claws off the courts, which have found Joshua Wong and friends charged with Occupy offences to be 'brave youths who express their opinions'. Something tells me brave Magistrate June Cheung who expresses her opinions isn't going to be getting a Gold Bauhinia Medal any time soon.