With all the slights and insults this cruel and callous world is levelling at poor innocent victim China, there has to come a point when something snaps – the glorious motherland can take no more.
It could have been the Philippines, insultingly insisting it had a legal right to its territorial waters. It could have been South Korea, arrogantly allowing the US to install anti-missile systems as protection against the North's nukes. It could have been the UK, insolently rethinking a part-Chinese nuclear power station project. It could have been Australia, whose boorish Olympic athletes bring up Chinese rivals' records of doping. (Or France, ditto.) It could have been Austria, which irritatingly and stupidly has a name almost the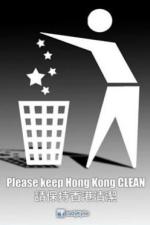 same as Australia. It could have been Brazil, hoisting a Chinese flag with the little stars not pointing the right way (for the correct positioning, see example on right). It could have been Apple, Microsoft or Volkswagen, who have ripped off Mainland consumers and/or intellectual property. It could have been Japan or America for obvious reasons far far far too numerous to relate. It could have been [insert dozens of other instances in which hostile brutes have hurt the feelings of the Chinese people, attempted to thwart the country's rise, etc].
But it seems it is plucky little Hong Kong that has mightily miffed the motherland so much that the miff-ometer reaches breaking point. Ever-depressing all-purpose pro-Beijing spokesman Lau Siu-kai conveys China's official mega-mouth-froth-rant over Hongkongers' offensive and disgraceful laughter and hilarity in reaction to Chinese Olympians' crappy performance…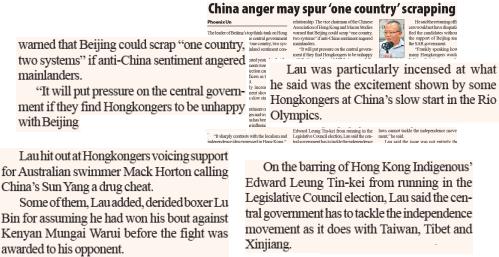 Unless you break down in tears at our nation's sporting failures, he says (pretty much), Beijing will scrap the 'One Country Two Systems' principle, make you all drive on the right-hand side of the road, abolish traditional written characters, and force you to drink adulterated Yakult, just like the 1.3 billion compatriots across the border – then you'll be sorry.
In short, if you don't start being happy about the one-party Communist regime, it will come and hurt you. Love the motherland, or the motherland will inflict pain on you. If this warning doesn't convince you to respect and adore Beijing, whatever will?