If you want a slightly dismal start to Monday, look no further than the front of the South China Morning Post…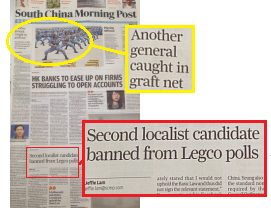 Hong Kong's barring of candidates from running for election because of their opinion is mundane enough to be shoved down to the bottom of the page. At the top (perhaps as a result) an unfortunate juxtaposition in which Beijing grabs another People's Liberation Army general on corruption charges, while Hong Kong youngsters attend a training camp organized by the, um, PLA. The big lead story in the middle concerns the worthy but yawn-inducing subject of banks rejecting clients for fear of non-compliance with anti-money-laundering rules.
On the back page of the Business section – of all places – is the stuff that gets swept under the carpet: Hong Kong's extreme inequality and ordinary citizens' poor prospects.
Is there anything to alleviate the sense of foreboding?
There is a next-Chief Executive sideshow going on: Financial Secretary John Tsang and pro-Beijing veteran Tsang Yok-sing make vague noises about possibly being sort-of willing in principle to 'serve the community'. But the CE 'election' is ultimately stage-managed by Beijing, and this is simply a distraction. The Central Government's Liaison Office is now running Hong Kong in terms of bolstering state authority and fighting the opposition, and no-one is running the city in terms of social or economic policy.
Mike Rowse is as perplexed as anyone by the Liaison Office's apparently counter-productive obsession with young localists. If we assume that Chief Executive CY Leung is essentially a puppet, it comes down to the Liaison Office's boss Zhang Xiaoming. It could be that detecting/creating and then successfully defeating a Splittist Threat to National Security in Hong Kong is the cunning key to his next step up the career ladder in the Communist regime hierarchy. It could be he is a delusional paranoiac out of Leninist central casting. Either way, it is hard to see how John Tsang or Tsang Yok-sing relate to putting this craziness back in its box.
Former Education Secretary Fanny Law proposes a revamp of the government's public consultation system, to involve youth and create a more inclusive platform for policymaking. Even in later colonial times, the 'administrative absorption of politics' was becoming tired. Now, in the 21st Century, you would think we could aim higher than co-opting shoe-shiners – maybe try accountable government, or something?
Instead, Fanny thinks that engaging the kids will let them 'know what opportunities they have'…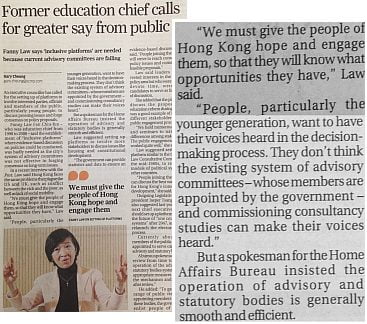 Presumably the opportunities are boundless (hey – 'Belt and Road') and the kids are wrong in suspecting otherwise. So this is really the 'We must communicate better' argument: everything is excellent, it's just that the dimwitted masses don't realize it.
Strip this down to the basic logical conclusion, and the answer to Hong Kong's problems is happy pills: put soma into the reservoirs and we can all be deliriously harmonious. Cue landlord Allen Zeman and other retail/tourism interests, launching a 'We Like Hong Kong Being Reduced to Nothing' campaign to convince the lower orders to enjoy being swamped by millions of overseas visitors buying overpriced crap in tacky malls…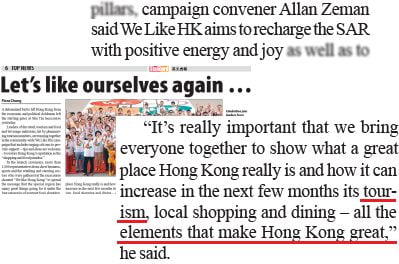 So it's tourism that makes Hong Kong great, not even the other way round. Yes, this will work. The boss of Sa Sa – dedicated to covering Hong Kong with thousands of cosmetics outlets – says 'the important thing is that we are united'. A restaurant chain has a bold plan to attract riffraff local customers 'through offers based on creative ideas'. The organizer of 'Formula E' car-racing will give free tickets out to children from low-income families. Hey presto! We all rush to vote Liberal or DAB in September.