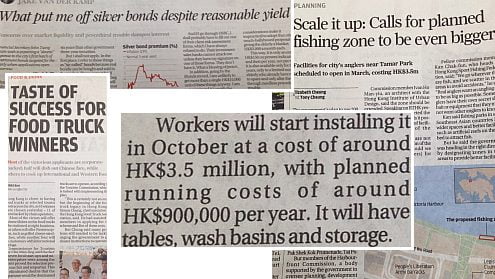 Perhaps it's the time of the year, the alignment of the planets or simple coincidence, but the Hong Kong government seems to have lapsed into unremitting, inane trivia.
It is issuing bonds for which (with bulging fiscal reserves and budget surpluses) it has no need. Their yield is moderately attractive, but only individual Hongkongers aged over 65 can buy them, and they cannot trade them. To further ensure the elderly investors do not get over-excited, everyone will be limited to HK$10,000 worth each. What is the purpose? There is no purpose.
After organizing an elaborate qualification and bidding process, and imposing numerous specifications and high entry costs, the government is also issuing permits for a small number of food trucks designed to sell things like artisanal toasted cheese sandwiches. Again, no-one knows the purpose of this. The SCMP article says it's to 'boost tourism' – tourism being a euphemism for landlords. But the trucks' number and locations are being restricted in order to protect the interests of fixed restaurants, by which we also mean the interests of landlords. Landlords-first policy quandary! Besides, the city is overflowing with tourists. Meanwhile, the government continues to stamp out traditional street-food and other local heritage. All is cluelessness upon cluelessness.
Speaking of heritage, the government is also agonizing over Queens Pier, the bare concrete Central waterfront structure that launched a thousand drunken junk trips. Architecturally, it was nothing. But its demolition 10 years back to make way for reclamation and under-used multi-lane highways sparked the first protests by what we would now call young Localists. Although unaware of the pier's historic counter-revolutionary significance, officials imagine it to be of interest as the arrival point for colonial governors. So they have proposed rebuilding it on the new shoreline, where it would look grotesque, at a cost of HK$230-300 million. Following complaints by activists, they are now conceding that the structure could be put in its original location (where it would at least mark the old shoreline). But they are in a mighty huff and reserve the right to insist on their original plan, however stupid. So there.
Just when you think the sheer mind-numbing inconsequentiality must have reached its limits, along comes the Central Fishing Themed Zone Hub Concept Scheme. Currently, anglers can, and do, indulge their scintillating pastime pretty much anywhere they please on the harbourfront. Now the government has come up with the idea of a special 200-sq-metre strip of promenade dedicated to them. Rather than just having the same old footpath and railings you get everywhere else, this spot would feature tables and – exciting! – basins. (For gutting all the marlin, bass, shark, etc?) They will be diamond-encrusted platinum tables costing HK$3.5 million plus HK$900,000 annual recurrent expenditure, because this is Hong Kong and we look after our anglers.
Members of the relevant advisory committee say the Zone Hub should be bigger, or not bigger, or replicated elsewhere in Hong Kong, or not, and so on. A piscine enthusiast on the committee suggests that anglers tend not to cluster in confined areas, partly to avoid accidents and partly to keep their special techniques secret. He also warns that fish too do not necessarily stay in one place but have a whole harbour to roam around, and so may not turn up consistently at the exact Zone Hub spot. It could be the world's first fishing zone with no fish or anglers. The committee still has work to do.
The Hong Kong government, on the other hand, apparently has very little.