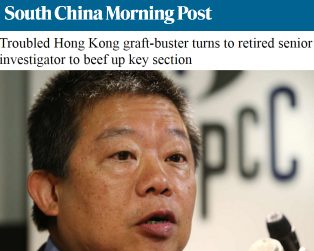 The South China Morning Post reports that Hong Kong's Independent Commission Against Corruption is bringing a former senior officer out of retirement to 'beef up a key section'. Could this be the same key section that was 'un-beefed up' – maybe 'beefed down' – when operations boss Rebecca Li was mysteriously removed a few weeks ago? Yes it could.
Many observers – the New York Times being one of the latest – wonder whether Li's departure is linked to an ICAC investigation into Chief Executive CY Leung's UGL payment hoo-hah. In the grand scheme of things, the real issue is the contradiction between the ICAC's independence and the Chinese Communist Party's need to have total control. Beijing officials can't sleep at night knowing that a Hong Kong law enforcement agency with British-trained (and indeed some actual British) staff can undermine state power. It's the principle: if Beijing appoints a high official in Hong Kong, it can't have some other body come along and prosecute the guy. Who's in charge here? This is China. This has to be rectified.
Of course, this is the road to unintended consequences. An ICAC subject to Beijing's ultimate influence will cease to be impartial and lose credibility. Growing cross-border and other corruption could damage Hong Kong's business environment. As the SCMP points out, hasty government interference in ICAC personnel matters is already creating chaos…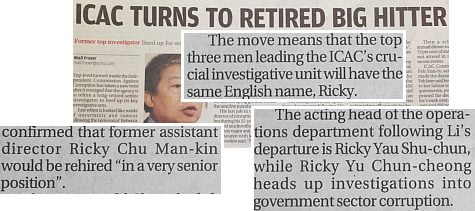 Suddenly, everyone is called 'Ricky'. What a tangled web we weave…
And the unintended consequences keep on coming. The government's 'loyalty test' for election candidates is making household names out of formerly obscure pro-independence or otherwise localist figures like Edward Leung. An attempt to deny them a platform has become the best platform they could ever hope for.
To compound the idiocy, along comes Rita 'heavyweight' Fan. She seems confident that the courts can and will resolve everything neatly. Let's put it this way: they will have to rule whether officials can bar someone from running for election on account of his opinions. Furthermore, if a lawmaker who signed the declaration subsequently voices support for Hong Kong independence, the government should in theory prosecute him for having lied at the time – or maybe for subsequently changing his mind. A rumour says Chief Secretary Carrie Lam thought up the 'loyalty test' idea; if so – since she is not dense – it is a parting time-bomb.