The Wall Street Journal headline summarizes China's predicament well…

The UN tribunal ruling on the South China Sea leaves the country's leaders in an impossible situation. To bolster the regime's legitimacy at home, they have stirred up a nationalistic public (and military) with promises of vengeance for 100 years of humiliation by evil foreigners. In order to maintain this mandate, they have no choice but to defy the ruling and be seen internationally as Official Regional Bully and law-breaker.
Maybe the WSJ errs in suggesting that the tribunal's decision is responsible. China has painted itself into this corner. As recently as the late 2000s it was developing broadly positive and trusting relationships with most of its neighbours. See this piece for an excellent account of how it went wrong. China's rise to regional dominance was already assured by its size and economic strength. Instead of doing it in a statesmanlike and mature way, it went for maximum arrogance and obnoxiousness, leaving it now surrounded by fearful and hostile countries, apart from a few grubby dictators whose support it can buy.
A parallel is the Communist Party's campaign in recent years to win the hearts and minds of Hong Kong and Taiwan people, especially the young. Rather than woo the 'compatriots' with respect or empathy, China relied on mouth-frothing, rants, threats and co-option of unpopular elites, achieving the exact opposite of what it intended.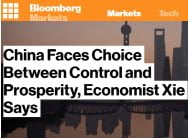 The South China Sea is not Beijing's only insurmountable quandary right now. Xi Jinping and his colleagues must also choose between economic reform through shrinking the government, and keeping themselves in power by tightening their grip. Tough one.
Where the economy is concerned, Beijing's main response is to ramp up property prices yet again. The reaction to the South China Sea ruling is to lapse into uncontrolled freaking-out tantrums and sheer fantasy, as seen in China Daily's front-page map, showing nearly every nation in the world solidly behind the Motherland…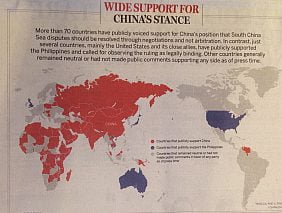 To paraphrase Oscar: one impossible dilemma is a misfortune, but two looks like carelessness. Are we witnessing the beginning of the end of the China Model? A tiny group of men wielding total power while being accountable to no-one, isolated from reality and believing their own concocted version of the truth seems to work fine, until along comes realities that they cannot control or refute – and then the old brains start exploding.