Like some insecure egotistical bullying narcissist-pedant-bore, the Chinese government cannot do the decent and advisable thing, and quietly tiptoe away after being caught abducting and forcing confessions from the Hong Kong booksellers. It must have the last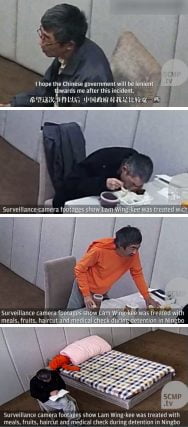 word and attempt to prove itself correct. The clumsy 'documentary' style video on Lam Wing-kee tries to establish that his incarceration and treatment were legal, humane and even at times quite jolly, and the dastardly double-crossing fiend is now reneging on his bail conditions, and presumably hurting the feelings of the Ningbo Public Security Bureau.
Individuals who have this obsessive 'last word' personality defect are not interested in whether others see them as right or wrong; they simply must convince themselves in their own mind that they have triumphed. But it's different for Chinese officials. The Communist Party cannot be wrong, so it must concoct a face-saving 'truth' – Lam and colleagues are guilty and due process prevailed. They will stubbornly stick to this story with a straight face. There is also a subliminal warning here: we can control not just your body through kidnapping and your words through forced confessions, but what everyone else perceives and remembers about it afterwards.
No, it doesn't work in Hong Kong – but the Communist Party isn't to know that.
Beijing's supporters and sycophants here are in an above-averagely awkward position. They cannot openly admit that Xi Jinping's henchmen broke all the supposedly sacrosanct Basic Law/One Country Two Systems rules to keep the chubby despot's sex life secret. But to echo the Chinese government's blatant lies is to look ridiculous; only the most extreme and obtuse loyalists can handle that degree of humiliation. All the average local official or establishment figure can do is change the subject, use the word 'concern' a lot, or nervously imply that we don't know exactly what happened but everyone must obey the law when they are in the Mainland – and live with the fact that all right-minded people in the city will mock him as another pitiful piece of slime who sold his soul for a Gold Bauhinia Medal or cross-border business deal.
Meanwhile, let's all focus on pretending not to notice how strange, embarrassing or illuminating it is that Hong Kong has extradition agreements with loads of important, cool and even humdrum foreign countries, but not with the rest of its own sovereign nation and we-love-integration glorious motherland.