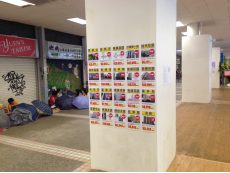 People strolling through Central Market at the moment will see a load of property ads neatly placed on one of the pillars. They will probably roll their eyes and wonder how much more desperate real-estate agencies will get in trying to sell their overpriced hovels. Maybe they will also wonder whether the government will take action against whichever unauthorized lowlife is using public space this way.
Many will probably walk on. But if they look more closely, they might notice something odd. The ads quote the apartment prices in terms of dollars per square foot, a valuation of limited use to buyers who want to know unit size and total price. Furthermore, these per-square-foot prices seem erratic – suspiciously low or maybe even a bit too outrageously high…
On closer inspection, the ads are purportedly offering 'housing' for domestic helpers…

Nearby are life-size floor-plans of domestic helpers' bed spaces, such as on the floor of a tiny kitchen…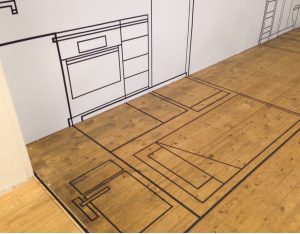 It's an art project that's also a rare example of the guerilla spoof-ad street-theatre thing Hong Kong needs and deserves – remember King's Cube or Zevs' Liquidated Logos? The city is begging for some parody Park N Shop posters or vicious anti-marketing to weaken brand equity.
Perhaps this installation is a bit too avant-garde and understated. Most of the passers-by, not to mention the domestic helpers having their Sunday gathering, were oblivious to it. The incessant real-estate and other commercial information-overload has left us so numb that we wouldn't notice Red Hot Offers! signage if Watsons plastered it all over our bedroom walls while we were out. Of course, HK$18,000 for a 12-inch-by-12-inch patch of concrete doesn't seem normal – it is normal.