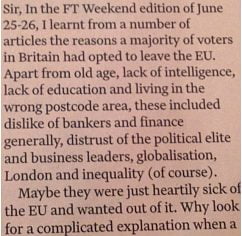 The weekend was an outpouring of mawkishness and mindless memes. The most shocking thing about the UK's Brexit vote is the shock and horror subsequently displayed by many of the country's own people. While the referendum result was unexpected, it seems parts of the British population are in complete disbelief, seeing it as against nature and world-ending. The impression is of pro-'Remain' electorates/sub-cultures that had been cocooned from realities of life and the opinions of many of their own countrymen (presumably, this is not peculiar to the UK – the 'echo chamber' effect must play a role).
The mawkishness and emotion suggest a lack of worldly experience, which heartless grumpy and impatient types might attribute to helicopter parenting, lack of 'trigger warnings' and similar modern ills. Even the most easy-going of us can only take so much whining about 'having our future destroyed' and demands for a second referendum. There is also a simplistic, naïve self-identity/tribalism at work in the assumption that being pro-EU and being against racism and other illiberalism are the same thing.
As for the memes… Scotland will become independent; violence will break out in Northern Ireland; there will be years/decades of uncertainty; banks will disappear from London;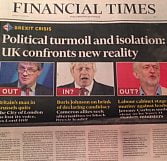 English counties that received EU handouts will perish; the Labour Party leadership issue is of gripping importance. (We'll skip the rush for Irish passports or the outbreak of anti-Polish pogroms.) No-one knows why these things can or should happen – it's just that everyone is going round telling everyone else they will. If you like this sort unquestioning panic, try the Financial Times, the paper that once predicted cataclysm if the UK did not scrap its own monetary policy and adopt the Euro.
The emotion and memes culminate in the EU power structure itself, where grandees demand that the UK suffer maximum economic pain, partly out of vindictiveness for its impertinence, and partly to deter other countries from leaving. Incredibly, some are instinctively demanding greater federalization among remaining member countries.
Serious questions. Why do they so badly want to deter other countries from leaving? Why should other countries want to leave?
The Eurocrats detest arrangements ('cherry-picking', concessions, opt-outs, other flexibility) that might appease public opinion in individual member countries. Yet they have no convincing reasons why uniformity and submission to unpopular measures are vital. The only conclusion is that, rather than being about the needs and wishes of people, the purpose of the EU today is the continuation and strengthening of the EU itself. So much idealism and vision and work have gone into building the institutions and structures and processes and accumulation of power, they cannot allow the 'project' – as they call it – to end, change, adapt, listen, calm down or otherwise get real. Sounds as if it is the EU that really has the 'existential' problem.