And the great soft-power triumphs keep coming. Unable to find any cute puppy dogs to kick in the teeth, Chinese officials ban an adorable and innocent Taiwanese aboriginal children's choir from appearing on the Mainland. The kids had (obviously) hoped to raise funds from the performance to sing in Europe. In Taipei, democratically elected President Tsai Ing-wen steps in with some cash. Communist Party United Front strategists are shocked and mystified that, yet again, a no-nonsense display of who's boss still fails to convince the Taiwanese public that submission to and subjugation by the one-party state in Beijing is a compelling and alluring proposition.
The glorious-reunion-with-the-motherland thing isn't going any better in Hong Kong, where one of the five abducted booksellers returns after eight months in captivity, and speaks out. When Lam Wing-kee reappeared in Hong Kong three days ago, it seemed he would behave as three other returnees have done – look traumatized, ask the police to shut the case, and drop out of public view. Most people could guess what had happened: they had been abducted, held in a secret Mainland location, interrogated, forced to make false confessions, subjected to blackmail or threats against family, and eventually, stressed and terrified, dropped off in Hong Kong.
Unlike the others, Lam has gone public. (The story is everywhere, but the SCMP do a pretty good job here, here and here. The daughter of the fifth hostage – Gui Minhai, abducted from Thailand – is also speaking out.)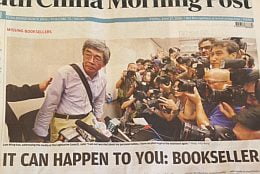 Lam confirms the widespread suspicions. In doing so, he forces us to face some stark facts.
China's top leaders see the locally produced scurrilous/gossipy books about them as a serious threat – perhaps emanating from anti-Xi factions in Beijing – and thus a 'national-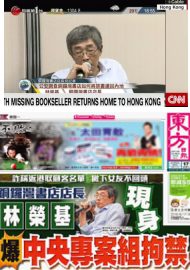 security' issue. The abductions are clear violations of the Basic Law's guarantees of Hong Kong's free press and separate legal/law enforcement jurisdiction. We should not be surprised: the Chinese Communist Party is not subject to the law.
The Hong Kong government is reduced to the role of helpless and impotent bystander with no clue about what is happening, issuing a lame press release as a silent plea for understanding. As an international business and financial hub, we must have rule of law, but as part of the People's Republic of China, rule of law can be suspended at the pleasure of the Communist Party. They can snatch you off the street, televise a show trial, threaten your family – nothing we can do about it. But low taxes!
The rest of the world, including Taiwan, will draw their own conclusions.
Do the people of Hong Kong do the pragmatic thing and accept this as inevitable and not likely to happen often, or to anyone we know? Or do they become even more wary of, and hostile to, anything from Beijing and the Mainland? Former Chief Executive Tung Chee-hwa said a while ago that people in Hong Kong should learn more about China. Consider it done. Many will take Lam Wing-kee's warnings to heart, and perhaps be inspired by his example. This guy has guts. The top-level Mainland security forces that abducted him are expecting him back with a hard drive full of names. Instead, he has turned the tables and exposed beyond any doubts or uncertainty the thuggishness and lawlessness of the CCP. I declare the weekend open by nominating him for one of these.