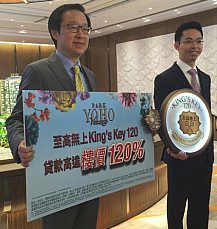 Not content with unleashing packs of rabid, half-starved real-estate agents onto Hong Kong, Sun Hung Kai Properties is now trying to stuff cash into people's pockets in an attempt to sell its grossly overpriced, horrid little apartments. The developer is offering 120% mortgages to enable existing home owners to pay off their current loans and 'upgrade' (I dread to think from what) to the company's Park Yoho Venezia project in drab, distant and dismal Yuen Long.
Even a property agency boss expresses surprise at the 'gamble' suckers accepting the offer would be taking at a time when prices are set to continue falling.
Some onlookers question how a developer can get away with this when the HK Monetary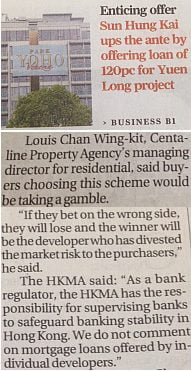 Authority forbids banks to lend buyers more than 60% of a property's value. The answer is that the HKMA doesn't care about the folks who buy homes; if they bite off more than they can chew and end up in negative equity, that's their tough luck. The HKMA's only concern is the well-being of the institutions that make the loans. If banks lend 90% or 100% mortgages during a housing bubble, and then prices collapse, the financial system will be threatened.
The cool bit is that if the banks lend money to developers, who then lend it to over-extended buyers, there's nothing to worry about because – serendipitously – the HKMA doesn't classify that as mortgages. At the time the banks lend that money, it gets called something else, so everything's fine. The people at the HKMA are incredibly highly paid because, unlike the rest of us mere mortal dimwits, they can comprehend such mysteries. (Basically, it's about risk: provided the banks and our developer friends have unloaded it onto some poor schmuck trying to house and feed his family, everything is perfect.)
The 120% mortgage offer in itself serves as proof that the market is heading down, and should therefore, in a rational world, be self-defeating. People think of property tycoons as shifty, duplicitous types, but right now, Sun Hung Kai would not be making a more transparent and honest statement if it tattooed 'Desperate!!! Gimme Gimme Now!!!' on Raymond Kwok's forehead.
And still… There will be takers.