I recently acquired some of Blacksmith Books' latest. They have a common theme: British people who came to Hong Kong (and in one case went elsewhere in China). Here's the second…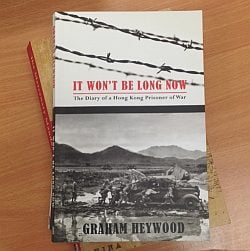 It Won't Be Long Now: The Diary of a Hong Kong Prisoner of War by Graham Heywood
Graham Heywood was born in Britain in 1903 and came to Hong Kong in 1932 as a meteorologist in the Hong Kong Observatory. This was back in the days when they physically hoisted storm signals. He served until the 1950s.
In December 1941, with the Japanese thought to be far away but approaching, he and a colleague drove to a 'Magnetic Station' in the New Territories to retrieve equipment. They walked straight into enemy soldiers and he ended up in Shamshuipo prison camp – an old army barracks on reclaimed land, across from Stonecutters Island. (As a civilian, he should have been in a different camp on Hong Kong Island, but the Japanese treated him as a military prisoner.)
This is not a diary in the sense of a daily record, but an account drawn from whatever writings (and fine sketches) he managed to keep over nearly four years.
If it wasn't exactly four years of hell, it was not far off. By the infamous standards of the Japanese, the regime does not sound especially cruel. At first, a few civilians bartered supplies across the fence and some prisoners escaped, but after a while the place became more disciplined. Other than roll-calls, late-night inspections and organizing manual work assignments (at places like Kai Tak runway) the Japanese largely left the prisoners to run themselves.
Essentially, they rotted in their huts. Everyone starved. Some prisoners died of malnutrition or disease. At one stage Red Cross parcels supplemented the poor diet and lack of medicine, but then they stopped arriving. The prisoners grew some vegetables in the dirt; it didn't help that the author had an aversion to rice, believing that it was not suitable for Western stomachs.
The one serious escape attempt failed, and non-participants like Heywood were collectively punished with cuts in rations. There wasn't really anywhere to escape to.
Amazingly – and this perhaps makes the biggest impression on the reader – Heywood managed to see things in a positive light. This doesn't seem to be spin added to the memoir after the war, but a genuine personality trait. Prisoners taken off to work in Taiwan and Japan had it worse, he felt, as indeed did many of the civilians struggling to survive outside the camp (work details saw corpses on the Kowloon streets). The inmates organized lectures and plays, and Heywood even ran a Boy Scout troop comprising younger soldiers.
Despite being a short read, the book conveys the essence of the title – the dragging of the years, and the rise and fall of rumours of the war's end as US planes started to be seen but then vanished. The prisoners had no way of knowing what was happening, and the last year, with Hong Kong in collapse and Japan clearly headed for defeat, must have been a soul-destroying eternity. It's a wonder they stayed sane.