Another day, another Mainland official ranting that it is illegal to call for Hong Kong independence (while the city's authorities pointedly fail to arrest any of the numerous activists who delight in openly committing the supposed crime). Among those who disagree with local Ministry of Foreign Affairs guy Hu Jianzhong is Tsang Yok-sing…
The South China Morning Post uses the phrase 'heavyweight' for even the most inconsequential and boorish attention-seekers in the pro-Beijing camp (Google the word alongside 'Rita Fan'). But Tsang is a longstanding leading figure in the DAB, the backbone of the Chinese Communist Party's local United Front.
He has shown a relatively independent streak in recent years – for example, straying from the official line that young protesters are controlled by evil foreign forces, and now appearing on TV as a travel buddy to radical 'Long Hair' Leung Kwok-hung. It is the patriotic duty of DAB members to suffer for the cause, and like many of them he no doubt finds it a burden having to side with the unpopular, divisive and shameless Beijing ultra-loyalist Chief Executive CY Leung. There are also national-level power-struggles among the Xi Jinping and other factions that could influence Tsang.
Still – it's at least slightly surprising to see him blatantly oppose one of Beijing's local officials (though not one from the Liaison Office that micro-manages CY's ongoing battle against evil counter-revolutionary forces). And it is equally interesting that he warns of national security laws in language we would expect from the Civic Party's rights-supporting lawyers. And he presumes to speak for the government on such laws, even though he has no role in the executive branch.
Which brings us to another pro-establishment figure going off-message – and another example of Hong Kong's irrepressible anti-CY/Beijing movement popping up in the unlikeliest places…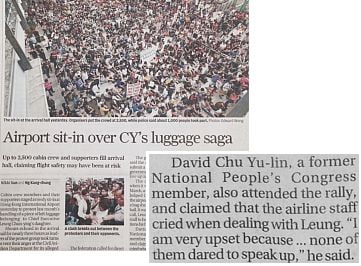 The place was the Arrivals Hall at the airport, and the occasion was a protest against the infamous Bag-Gate (or more correctly 'lack of bag at departure gate') Scandal. It is not totally clear whether airport/airline staff committed a massive security breach when they passed Chung-yan's bag from ground-side to air-side. CY himself seems to have pulled rank, which was foolish. But I can't help thinking that other idiots must forget luggage this way at times, and – assuming they don't have a beard and the name Mohammed – someone brings it through, via the X-ray, so they get their flight.
But who cares? It's a golden opportunity to inflict pain on the administration while looking amazingly righteous, so go for it (and savour the pleasantly sizable turnout, the photogenic surroundings and the typically clumsy response of the authorities at the scene). The government can only whine pitifully, while the only help it gets is from the usual little group of sad misfits who mount a counter-demonstration.
The point is that among the anti-government protesters was David Chu, a pro-establishment lawmaker from many years back (when he was known as the 'flying pig' for being the first man named Chu to hang-glide from Hong Kong to Beijing backwards, or something). He was always what in polite circles is known as a 'maverick', but it is hard to see why he would now be following Tsang Yok-sing in apparently embracing the ideological enemy.
We last heard of Chu around 2005-ish, which we nostalgically recall as an innocent era when our only concerns were a few fish poisoned with malachite green, the odd plague-carrying civet cat and a swimming pool (or two, at most) full of something called blood worms. And, of course, the red fire ants that ate parts of Kowloon alive and presaged the fall of Tung Chee-hwa. Along with Chu, these insects are back. Could this be an omen?