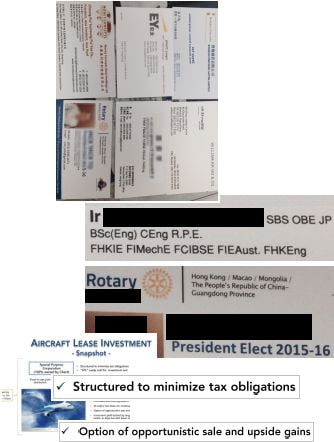 Under duress, I ended up at a South China Morning Post 'Redefining Hong Kong' thing yesterday. One of those events where hordes of people in business attire crowd into a hotel function room to network, have lunch and listen to a panel of experts. The worst bit is swapping business cards with strangers – in this case, an 'Ir' (silly and pretentious title adopted by engineers), and the Grand Vizier and Imperial Wizard 'Elect' of a Rotary Club coven. I am already the lucky recipient of a cold-call email from an aircraft-leasing outfit.
Although the gathering was called a 'debate', all the participants accepted without question the premise that Hong Kong must keep expanding its airport because other cities are doing the same. Unless we cram more flights, more passengers and more cargo into CLK, we will 'fall behind', become 'marginalized' and die a horrible death. Everyone wanted a third runway, except for Liberal Party lawmaker Frankie Yick (centre), who demanded a fourth…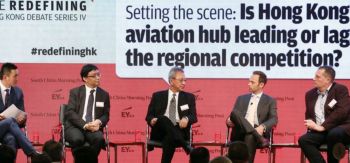 The SCMP's piece covers the dull blather. But, like – I expect – many of the attendees, the reporter missed a faint but definite hint of reality coming especially from Andrew Cowan (right), boss of budget airline HK Express, and one or two audience members during the Q&A. Buried between the lines of their comments was a sense that powerholders deciding issues like financing the third runway and defining the airport's role in the city should maybe consider the interests of Hong Kong's people. And not the interests of the community as defined by the bureaucrat-tycoon parasite-sleazebag nexus, but the interests as voiced by the local residents and taxpayers themselves.
OK, so this was not an unfurling of yellow umbrellas and call for independence. And HK Express, which basically caters to local backpackers on regional trips, has a different hub-development agenda from Cathay Pacific (represented by James Tong, 2nd left), which enjoys a semi-protected position gouging full-fare passengers who transit Hong Kong. But there was an underlying recognition – which you wouldn't have found a few years ago – that the public might have a stake too. (I am not recommending HK Express, which on my one trip with them departed Taipei on the 90-minute hop to HKG four hours late. [Update: Whoops – that was HK Airlines; HK Express no doubt wonderful.])
I declare the weekend open with the tremendously heart-warming thought that more and more people are realizing that HK Disneyland is a rancid hell-hole, and even more nightmarish when it rains. My loyal and well-travelled domestic helper recently compared the Californian and Hong Kong 'Disney Magic'. In the US, she says, visitors can chat with the cartoon characters. When she took some young members of her family to the Hong Kong Disneyland, and they approached Mickey Mouse, the employee inside the costume whispered "We're not allowed to talk!" This did not stop him from adding that he was a fellow Filipino, which apparently made everyone's day.