If you've ever wondered what life must have been like during the Cultural Revolution, stick around. The rectification of Hong Kong's media, universities and police is underway, and it's only a matter of time before they come for the courts.
Many people arrested following the Mongkok Fishball Riot are now being bailed. Various Beijing-linked bodies are denouncing judges for their impartial handling of such cases, accusing them of siding with pro-independence forces. A Chinese state-run 'think-tank' on Hong Kong has urged the intimidation of judges who 'pass lenient sentences in cases which jeopardize national security'. A former deputy commissioner of Hong Kong's anti-corruption agency wrote, and then retracted, a call for people to 'hunt down' a specific magistrate and seek ties between his family and pro-democracy groups. (More here.)
Ex-ICAC deputy commissioner Kwok Man-wai's remarks have prompted a particular backlash from lawyers, which is a big story today. The Standard if you're in a hurry, and the South China Morning Post for more detail…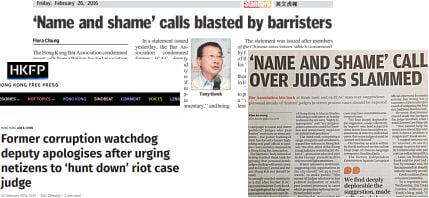 Or Hong Kong Free Press, which also has a comment suggesting that Kwok's remarks count as scandalizing the court. The writer of that comment, Tim Hamlett, writes in another HKFP piece that SCMP columnists Alex Lo and Michael Chugani could be committing another offense, contempt of court, as their diatribes against localist Ray Wong could prejudice Wong's right to a fair trial.
And behold – Alex Lo's My Take column in the SCMP comes this morning under the byline of Yonden Lhatoo, who is author of a second column just a few pages away in the op-ed….

Which looks like some hasty, last-minute, stopgap arrangement owing to unforeseen events – maybe a midnight knock at the door, or a breakdown induced by a crisis of conscience. It would be exciting at this point to say that the columns concerned have been taken off-line, but no, and no. The sad thing is that Lo and Chugani presumably do not believe their own Ta Kung Pao-style ranting, but are under orders from their rectified newspaper's owner, live in fear of struggle-sessions with the work unit's Red Guards, and have to eat.

Flicking elsewhere in the paper, I wonder if a couple of the big-size quotes that the SCMP likes to pull out are perhaps self-defeating? One puts you off reading the story because it is so inane (unless I am missing something – I don't know Adele from Beyonce from Kanye), while the other goes waaaay too far in the other direction…

I declare the weekend open with Joke of the Week…