Hong Kong Financial Secretary John Tsang's annual budgets verge on self-parody. He stashes away much of the unforeseen surplus, for no reason, while giving the remainder back in an apparently random package of one-off minor tax cuts, rebates and grants to various disadvantaged demographic groups or fashionable/whiny business interests. He could reform the fiscal system in such a way as to end the land/property scam and reduce inequality – but of course, for the ninth year running, does not. (For more on this, see here.)
With nothing new to report, the media dwell on Tsang's tone and style. They perceive that he does not come across as belligerent, delusional and scary, note the obvious contrast with his boss CY Leung, and conclude that this must mean he is angling to be the next Chief Executive.
Let's remind ourselves that the CE is chosen by Beijing and Beijing alone; the local campaigning and pseudo-election is a charade. So publicly indicating a desire for the job – as lawmaker Regina Ip does so tirelessly – is not necessarily helpful. Let's also consider that Beijing might actually think belligerence, delusion and scariness are positive or even vital qualifications for the position. (That we don't know if this is so is in itself scary.) And let's bear in mind that you would have to be an idiot to want to head up a political structure that is pretty much designed not to work.
Nonetheless, we can't rule out the idea of CE John Tsang. The Chinese Communist Party is in a permanent state of panic and paranoia and could do anything – even lurch away from the current 'Mercilessly Crush Hong Kong' policy. When asked, Tsang gently denies wanting the job. Maybe he is lying in that irritating way politicians always do. But maybe he is just being too diplomatic to openly vomit at the appalling suggestion.
He was certainly being diplomatic when the press pointed out that his Budget speech had not referred to 'One Belt One Road' every five seconds, as CY's Policy Address did last month. Tsang hastily assured the reporters that he spouts off gibberish about 'One Belt One Road' as incessantly as any loyal and patriotic member of the government…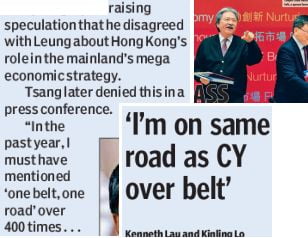 …or for that matter, any shoe-shining property tycoons. Sino Land's annual results announcement cites 'One Belt One Road' among its fairly brief list of reasons to be optimistic about business prospects in the year ahead…

Meanwhile… No sooner do I mention the word 'whiny' than a Hong Kong government press release appears waxing exceeding wrathful about ex-Governor Chris Patten's remarks on Communist Party interference in local universities. The defensive and overwrought tone and language is starting to look disturbingly Mainland…

Can '…hurts the feelings of the Hong Kong people' be far off?