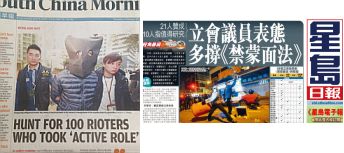 Hong Kong's valiant law enforcers round up armed, bomb-making, Viagra-chomping HK Indigenous terror suspects wallowing in tons of cash donated by sinister and mysterious sources. The theatrics are verging on comedy, but Asia Sentinel sees a logic in Chief Executive CY Leung's obsessive need to attack and offend. If true, you could conclude that he has an interest in failing to calm things down.
Meanwhile, supporters of Hong Kong Localists' confrontational tactics are vindicated as the Standard reports that the Mongkok Riot persuaded countless millions of tourists to stay away from Hong Kong over the recent Golden Week. However, the details don't add up. The Fishball Revolution took place right in the middle of the Chinese New Year long weekend, well after visitors had booked their travel arrangements, and indeed after many had already checked into their hotels. Any fall in the number of arrivals would have happened anyway, riot or no riot. (Which is even better news!)
The South China Morning Post does a whole page on how Hong Kong can 'bring back' tourists. The assumption is that we lack them and need them. There is no discussion of what we mean by 'tourists' let alone any analysis of the costs and benefits of flooding the city with visitors who are mostly Mainland shoppers rather than sightseers.
My hunch is that the industry delivers few net benefits to most local people; for every new store that opens and new job that gets created, another store closes and another job is lost. In a city with a shortage of space and little unemployment, the tourism industry just displaces other economic activities. One sign is that while visitor numbers/retail sales
increased massively over the last 10 years, median household incomes hardly budged. The phenomenon raises rents and squeezes out retailers serving local consumers. The beneficiaries are mostly landlords (and luxury-purveying tenants), who of course are the core of the local tourism lobby.
Tourism in Hong Kong is like a weed that has taken over a garden and choked off the diverse plants that were previously there. Gullible onlookers believe vested interests' claim that, because the sector visibly occupies so much space, we are dependent on it. In fact, the parasitical weed is dependent on the garden.
While it doesn't dare question the wonderfulness of the sacred tourism industry, the SCMP feature does vaguely ask whether it should be about something other than mass-shopping by money-launderers and arbitrager-smugglers. The assumption is that Hong Kong needs 'attractions' and should imitate those of Macau (historic buildings) and Singapore (the ugly skyscrapers with a banana on top). HK Tourism Board boss Peter Lam's property company allegedly demolished historic buildings in Guangzhou, so presumably he's not into the heritage thing. We can expect more desperate fake plastic stuff like themed food trucks, lame sports events, Lantau spas and expansion of the ever-crappy Disneyland.
Mass-tourism is for poor countries with empty space and youngsters grateful for dead-end jobs. If Hong Kong's tourism leeches, in their drooling short-term greed, have built too much hotel space, we can convert it to serviced apartments and help get a few rents down. And our government can 'think out of the box' and focus on making the city a nicer place for its own people, with the authentic sort of neighbourhoods, countryside, retail scene, street food, culture, historic sites and other amenities they want. Weirdly, it could actually lure overseas visitors, albeit not of the luxury shoppers/grocery smugglers variety. The biggest tourist attraction is the absence of tourist attractions.